Last night, the country's levels of patriotism were on max. I think the AFCON match last night was a much-needed boost that provided togetherness, especially considering the social media war that ensued between Zelda La Grange and the rest of South Africa. Have we forgiven her yet by the way?
Many of us either wore or bought new Bafana Bafana jerseys, all in the spirit of supporting our boys who played against Algeria at the 2015 African Cup of Nations.
The excitement for the team was so high that even DJ Sbu posted a pic of himself next to his Porsche as his way of wishing the team good . Sbu, I think the boys needed a boost from your MoFaya energy drink more than anything else.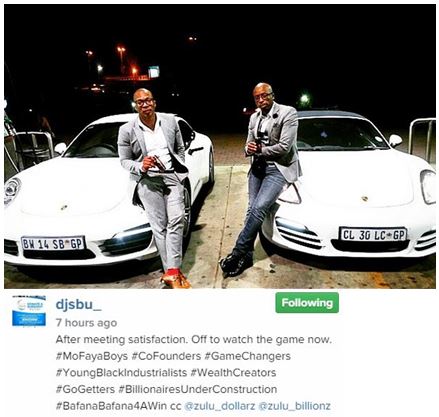 Rap Dad, Ma-E also wore his jersey in support alongside DJ twins, Twins On Deck.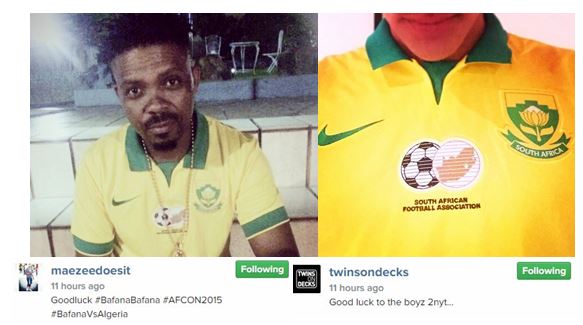 Much to our dismay Bafana Bafana lost 3-1, in their opening AFCON match against Algeria. And boy did the heartbroken memes begin to stream in.
Arthur Mafokate was the first celebrity we saw express his disappointment in the squad's performance.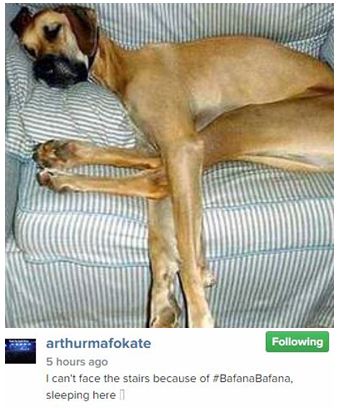 And of course the opinionated people on Twitter also voiced their frustrations on Bafana's loss. However, some chose to do it in a more comedic way.

Tweleb Taxi driver Sipho also had a funny angle when he commented Bafana Bafana performance.

And the best celebrity tweet was from...drum roll please...etv's Sunrise anchor, Penny Lebyane who did not waste her 140 characters sugar coating Bafana's terrible loss.

With all the criticism our national soccer team received, we were actually surprised to see Minister of Sport and Recreation, Fikile Mbalula still supporting the team, especially after his infamous "bunch of losers" statement.

Also, sports presenter, Mpho Maboi came to Bafana Bafana's defence with her crude tweets labelling the haters as fake Bafana Bafana supporters.

Thomas Gumede gave the best solution and suggested that, AB De Villiers  offer his champion techniques to the underperforming squad. Oh come on Thomas! It's only our first match of the tournament.