Last night's episode of SA Idols proved just how much these contestants want the title of being this year's SA Idol. The show turned into a water-fest with the amount of tears that were shed. There was so much crying that we're certain that the tears could've filled up a bucket or two for the ALS bucket challenge.
They withstood long queues, went through a string of nerve-wrecking auditions, survived "Hell Week" and now it was time to face the music once again as the SA Idols judges determined the contestant's fate from here on. 
First on the hot seat was Vincent Verhhoog who made it very clear from his first audition how badly he wanted to win SA Idols.  By the looks of things he'll be getting an even bigger platform to prove to us why he deserves the title. The judges gave the singer the nod of approval, making him the first contestant to be "safe" this week.
Whilst the show continued we were surprised at how many of our favourite aspiring singers got the boot, including the likes of Dr Lihle, who did exceptionally well at the theatre auditions, but clearly didn't go on to do as well as we thought she would. Lihle was shocked and buried her head into her hands as her eyes flooded with tears upon receiving the bad news. South Africa was bamboozled yet again when dreadlocked guitar player (Tebogo ) also received a cold dismissal from Randall who was not impressed with his theatre week performance as well.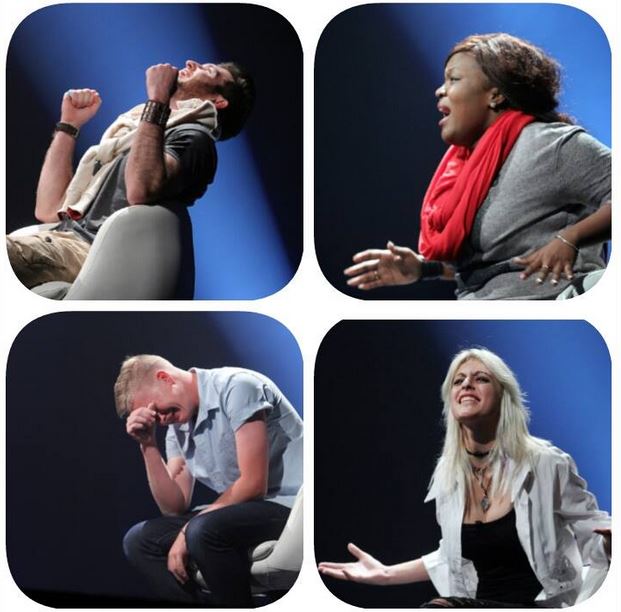 However, just when it was all seeming gloomy there was hope at the end of the tunnel when the likes of Vincent Bones, Musa Mashiane and another of our personal favourite Tumi Morobane managed to garner themselves a spot on the top 16.
The judges used several different techniques in letting the guys down slowly when it came to revealing if they'd made the top 16 or not. We loved Randall's comment (Yes sometimes we like what comes out of his mouth) when he told twenty year old Tumi from Vosloorus that she had made it through.
"Tumi, you look like a pop star. Two, you sing like a pop star. Three you're in the top 16." 
That was a short, simple yet true statement from Randall, we're no sangomas but we can definitely foresee Tumi and even Vincent Bones making it to the top 10 spot.
There weren't so many funny moments in this episode apart from the fact that some viewers thought that the show was being racist? Some South Africans are so quick to pull out the race card when it suits them. How does allowing certain individuals to make it to the top16 make the show racist? SA Idols is all about talent and it's musical talent that speaks volumes in this show, not the colour of one's skin.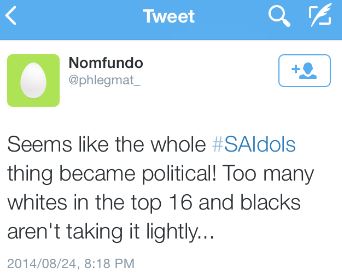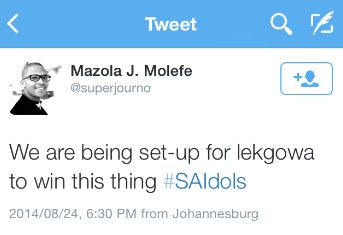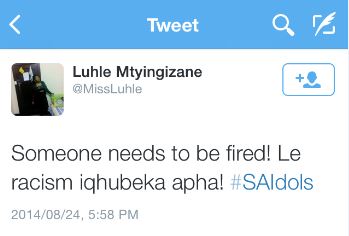 In case you missed the show last night here is your top 16:
Bongi Silinda, Celine Homan, Chante Geary, Demi Lee, Ivan Roux, Kyle Deutschmann, London Louw, Lize Mynhardt, Mirandi Smith, Musa Mashiane, Tumi Morobane, Olivia Cloud, Rowan de Villiers, Roxy McVean, Vincent Bones, Vincent Verhoog.
Credit image:  Facebook/SAIdols