OMG!
The South African Film and Television Awards (SAFTAs) were nothing short of entertainment. The event, which took place last night, proved to be about more than just awards as there were some really funny and awkward moments.
My jaw was on the floor when Mbali Mlotshwa was presenting an award for the Best TV Presenter. Let me start off by mentioning that Mbali, who is pregnant with her second child, looked gorgeous. When she got on stage she mentioned that the award she was presenting was the biggest one for the night. Of course, it had to be a big one because we had some of SA's biggest personalities competing for it. 
And then, as she was opening the envelope, she called out Bonang Matheba's name. I screamed because I thought that meant Queen B had won. But no, Mbali was just greeting her.  I mean, how can you do that knowing very well that Bonang was also nominated in that category? Yho! Was that Awkward or what?
Mbali then announced that Expresso presenter Katlego Maboe was the winner. That was a rather uncomfortable situation, for me at least.
Some people even took to Twitter to express their shock. @NyaradzoXO wrote: "Mbali Mlotshwa is going to get blocked by Bonang tonight." While @Noma_Catazo felt that was mean. "Guys are we gonna ignore Mbali Mlotshwa though?? Yoh soo mean #SAFTAS." And HK_Koketso91 agreed, adding, "you can say that again, I almost jumped."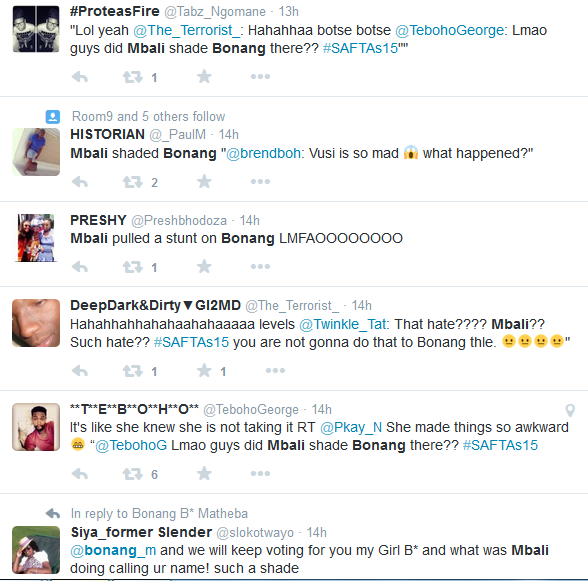 Maybe Mbali, like some of us, though Bonang would win the award? Hmm...