The memorial service of late Top Billing presenter, Simba Mhere who passed away in a car accident, this past weekend, will take place today.
His family earlier on in the week had requested that instead of sending flowers a donation could be made in his memory to JAM (Joint Aid Management) A humanitarian organisation close to their hearts that feed over 45 000 children in the country and more than 1 million children in the continent .
ALSO SEE: We are live streaming Simba Mhere's memorial service. You can watch it live by clicking on this link.
Today Top Billing will also dedicate a special tribute episode to Simba, this episode follows last week's show which focused on the budding success of Simba's career, two days before his sudden death.
His co-presenter and close friend Jonathan Boyton Lee is set to appeared on Expresso on SABC 3 this morning to share his fond memories of not only his colleague but a 'brother'.
Simba's close friend Kady Shay O'Brien (Pictured in the middle) who also passed away in the car accident will be buried tomorrow. Kady leaves behind her parents and young daughter.
There will be a live stream of Simba's memorial and funeral service live on SABC News and SABC 3's YouTube channel.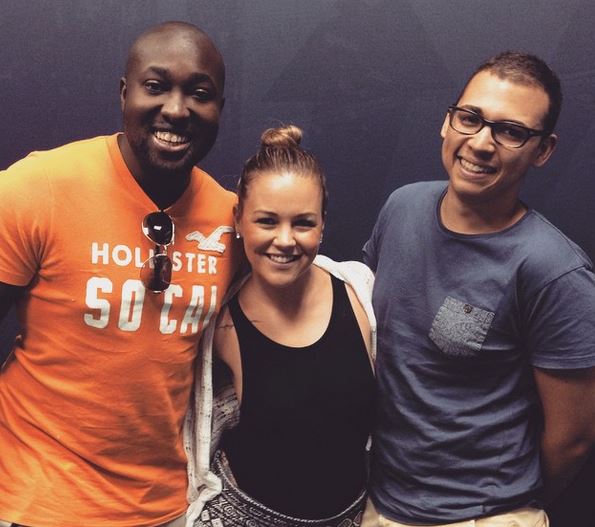 LIVE UPDATE: Bonang, Lorna Maseko, Jonathan Boynton-Lee and other celebs who are at Rhema Bible Church for Simba Mhere's Memorial
Here are the full details of Simba's Memorial Service:
Date: Thursday, 5th February 2015
Time: 15:00-17:00
Venue: Rhema Bible Church Randburg.
Simba's Funeral Service
Date: Saturday, 7 February 2015
Time: 09:00-11:00
Venue: Rhema Bible Church Randburg
Simba will be laid to rest at Westpark Cemetery
Address: Rhema Bible Church Randburg,
Hans Schoeman Street
Randburg