You know your show is good when it manages to trend after every episode airs, and local soapie Rockville easily falls into that category. With the right blend of cast and story line, Rockville's third season has been epic to watch every Sunday and the new actors on the show have added a lot of different types of spice to the show. Although, not all spices are necessarily good spices, as anybody who has ever added too much pepper to a spaghetti dish will tell you (i.e., me!)
With every passing episode of Rockville, Terry Pheto gets mentioned more and more on Twitter because of her questionable performances on the show. Have a look at this reaction from last night's episode: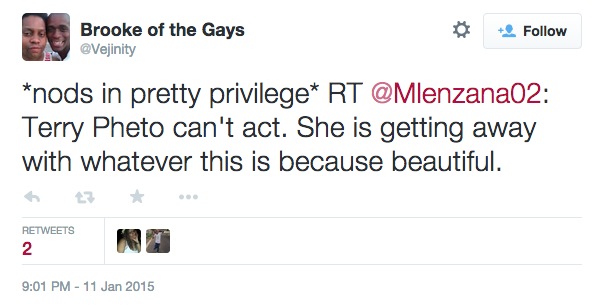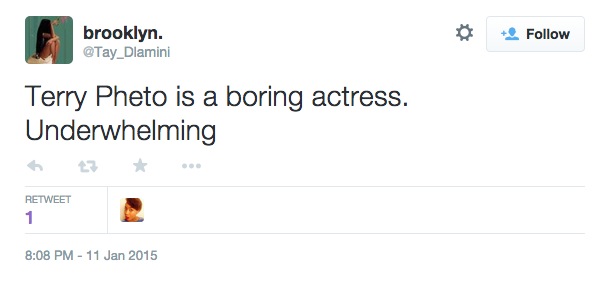 You can always count on Twitter to give you the honest truth in these kinds of situations, and Terry's critics were not shy in sharing their thoughts. She's been dubbed as "Boring" as well as having only "one facial expression" and most notably in the last tweet, a poor Bonnie Henna replacement. 
On the one hand, I have sympathy for Terry. Replacing Bonnie was never going to be easy, especially when you now have everybody comparing your performances to hers. On top of that, while Terry has proven herself to be quite versatile, I've always thought she looked more comfortable in film settings. Everyone will rightly point to her role in 2005's Tsotsi but for me, her performance in a film from a few years back, How to Steal 2 Million was a brilliant example of where she shines the most.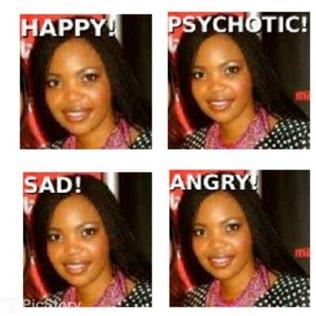 On the TV screen, however, I'm not the only one who's not been convinced by her performances on the 3rd season of Rockville (or her range of facial expressions!). She's playing Dudu, JB's wife (JB is played by Shona Ferguson) but we're not seeing enough emotion to really capture the drama that the couple is going through. With only 40 odd minutes to make an impact each week, maybe TV is still a space Terry needs to adapt to before she can really shine. 
We'll be patient, but for now, it just hasn't looked like it's the right fit for either Terry, Rockville or the show's fans.