Since the inception of Twitter, not a year (Or even month!) has passed on by without a Twar (Twitter War) ensuing between celebrities or even just us average joes of the world. We've listed three of the most nail-biting twitter wars of 2013 below.
Sizwe Dhlomo vs Lerato Kganyago

The most recent Twar on our timelines to catch the eye has to be the one that took place between television presenter Lerato Kganyago and businessman Sizwe Dhlomo who is notorious for putting people in their place on Twitter.  However, after Lerato's bullying incident at club Sway a couple of weeks ago the Link presenter didn't take lightly to Sizwe's comments which seemed, to the naked eye at least, as if he was defending the accuser who was set to have attacked Lerato (See full story here)
Both TV personalities exchanged some choice words on Twitter after Lerato expressed her disappointment towards Sizwe Dhlomo.
Our favourite twar lines from that twitter altercation were these words from both individuals.
@leratokganyago "Your sisters are getting disrespected in a club and you're all about licking ass."
The witty Sizwe obviously didn't let that comment slide and responded with a couple of tweets that had some of us cringing a bit.
"@SizweDhlomo: What you need to understand @leratokganyago is that I don't need to kiss anyone's ass in my life.  That may be how you do things, not here."
Just when we thought he was done, Sizwe came back with another response that was nothing short of conclusive.
"@SizweDhlomo: Secondly @leratokganyago, calling me names won't do anything for your problem.  If you've got a case, tell your lawyer and stop tweeting."
@SizweDhlomo: "Lastly & most importantly just because you're black, doesn't make you a sister of mine."
Rihanna vs Teyana Taylor
When thinking of Twars we can't not include the international rumble between the Navy Queen, Rihanna and G.o.o.d Music artist, Teyana Taylor who didn't take lightly to Rihanna's sneaky remarks about her singing.  Rihanna took things a bit too far when she started comparing her net worth with Teyana's; a move which sent Teyana's anger levels to the roof top.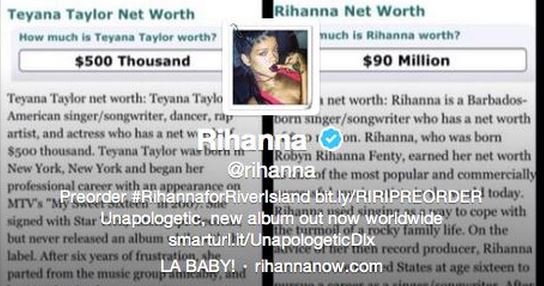 The lady from Harlem (Teyana Taylor) obviously didn't back down from the war and retaliated with a scorchy response to the Navy Queen (Rihanna)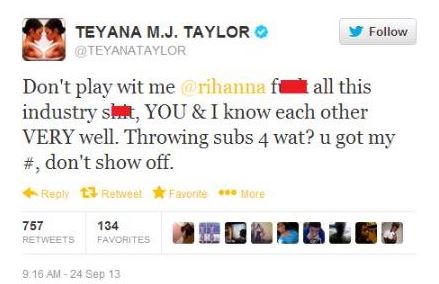 The Local Twitter Community vs Young Nucho
Aah Yes! And who could forget the terrible twitter attack on Young Nucho when it was revealed that he actually wasn't the babby-daddy of Nonhle Thema's daughter?  Well he kind of deserved what was coming to him as he had rubbed a lot of people in the local Hip Hop circuit the wrong way and boy did they have a field day with him! This was less of a one on one Twitter spat and more of a collective attack on the Lil' Wayne lookalike. Some of the best tweets included: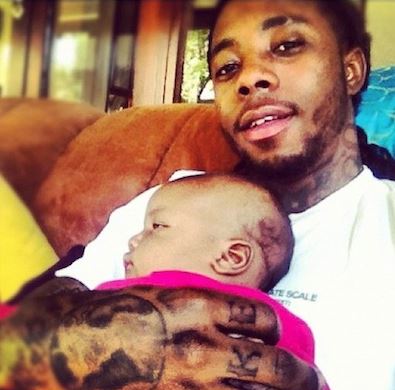 @ByDlanga: ''Young Nucho next gig is probably gonna be babby sitting that baby."
@SHOWtibzLove:  "Nucho is a case study in parenting…The irony…"
@MTshwete:  "If you say Not you, Not you, Not you fast enough….it kind of sounds like Nucho"
@SHOWtibzLOVE: "About as awkward as the entire situation"RT @Rey_Leshy:  "How awkward would that be now…"RT @SHOWtibzLOVE: "Nucho should have tattoed htat seed."