This last weekend was one of the saddest I've ever experienced since I began working in the entertainment industry. Make no mistake, the death of somebody you do not know can still touch and shock you, as Simba's did to me and  Prosper's did to his fans. Until moments ago, it was believed that Emzini Wezinsizwa actor, Roland Mqwebu had also passed away too. 
Sunday World revealed yesterday that the actor who played the role of Baba Mkhize was in hospital, "Fighting for his life". This then led to rumours, late last night, that the actor had passed away following his struggle with illness. These reports, we can confirm, are 100% untrue. 
Lawrancia Mqwebu, who is the daughter of actor Roland Mqwebu, sent a tweet to the SABC urgently notifying everyone that her father had NOT passed away and that he was in fact doing well in hospital.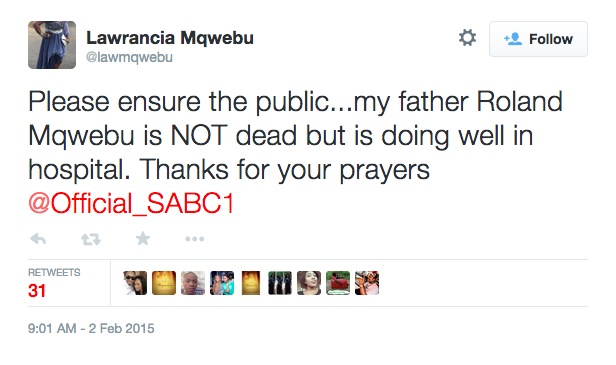 Eish, this is quite embarrassing because people on Twitter had already started sending their condolences to the actor and his family. Twitter has infamously "killed" several celebrities over the past few years, but we can, without fail, confirm that Roland Mqwebu is alive and well. If you see anybody saying he's dead at the moment, please kindly correct them!