An exciting weekend is ahead of us as aspirational musicians head onto audition for Idols SA season 11.
It's an even more exciting weekend for the producers of the show as it's been revealed that there is going to be a change with the Idols judges.
ZAlebs spoke to Mzansi Magic's publicist, Bongiwe Potelwa who confirmed that the change of judges will be revealed at the auditions this weekend.
1/3 of the Idols judges, Unathi Msengena aroused people's curiosity when she hinted on her Instagram account that rumours have been running amok about a possible change amongst her, and her fellow judges Gareth Cliff and Randall Abraham's.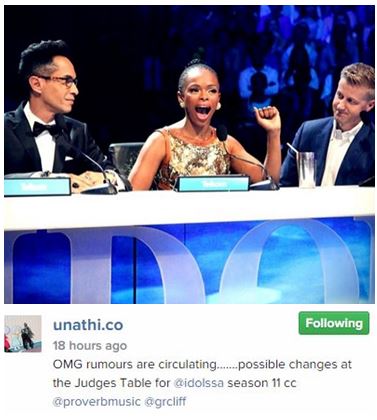 So who do you think is leaving us, Unathi, Randall or Gareth? And who could possibly be taking one of their spots. We actually have our eyes on R.J Benjamin, he's worked closely with the SA Idols production team and we think he'll do an outstanding job.