All it took was a 15-minute performance, kisses from her man and a 'good job mommy' from daughter Blue Ivy, to paint a picture of marital bliss. 
It was Beyonce's way of silencing the haters – an art she has perfected over the years. 
The superstar has been plagued with separation rumours ever since sister, Solange, (more commonly known as Beyonce's sister) gave her hubby Jay Z the beat down in an elevator in May. She reportedly accused him of cheating on her famous sister. 
Despite the 32-year-old posting loving family pictures on her Instagram following the release of the shocking footage, many labelled her attempt a publicity stunt. And who could blame them? Many of her images were slammed for being photo shopped to create picture perfect moments. 
This is the woman who casually exited the elevator like a swan taking to water and not like a woman who just witnessed her little sister attack her husband. 
Ticket sales of her On the Run tour with Jay Z were said to have suffered a major blow after the incident. 
In recent weeks, tabloids have gone as far as to say that a divorce announcement was imminent - or an 'uncoupling' as best friend Gwyneth Paltrow would say. 
So what does Beyonce do? She shuts it down once and for all. 
Queen Bey's 'mini concert' at the VMAs was so flawless, anyone before her was brushed off as an opening act to the Mrs Carter show. And what a show it was.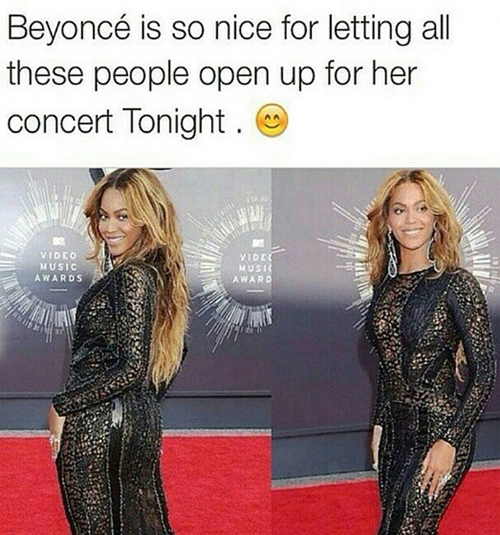 ​
Even Blue Ivy got in on the action. She showed off some serious moves while dancing along to her mother's performance as she sat in the audience on her daddy's lap. She even clapped on cue as her mother was presented with the Michael Jackson Vanguard award by Jay-Z and proclaimed "Good job mommy".    
Despite the show of togetherness, we did note that Solange was not seated with the family - perhaps to ensure that the man-beater did not steal the limelight from the crucial Carter family moment - designed to shut down the divorce rumours. They apparently avoided her like the plague. 
Beyonce very well may be the happiest woman alive, but her performance at the VMAs was a carefully crafted publicity stunt aimed at protecting the power couple's billion dollar empire. In her Flawless remix featuring Nicki Minaj, she brushed off that lift incident by singing: " Of course sometimes sh*t go down when it's a billion dollars on an elevator". 
So perfectly crafted was her MTV appearance that we have yet to see one imminent divorce story since Sunday - just mesmerizing reviews of a job well done and "ooh and aahs" about the happy family. 
Queen Bey walked away with four awards on the night and we might just need to add an academy award for the Carter Family United show.