SPOILER ALERT: IF YOU HAVEN'T SEEN THE VMA'S AND ARE WAITING TO WATCH THEM ON MTV TONIGHT AT 9PM, WE WOULD STRONGLY RECOMMEND YOU READ NO FURTHER (Why not see what happened on last night's episode of My Perfect Wedding instead?)
The MTV VMAs took place in Los Angeles last night and as usual we have plenty of talking points from this year's awards including some of the biggest winners and losers on the night. Miley Cyrus stole the limelight again (But in a completely different manner than last year's) while hipsters around the world will be rejoicing the fact that Ed Sheeran and Fifth Harmony walked away with some pretty impressive awards. Let's get right into it:
The big winners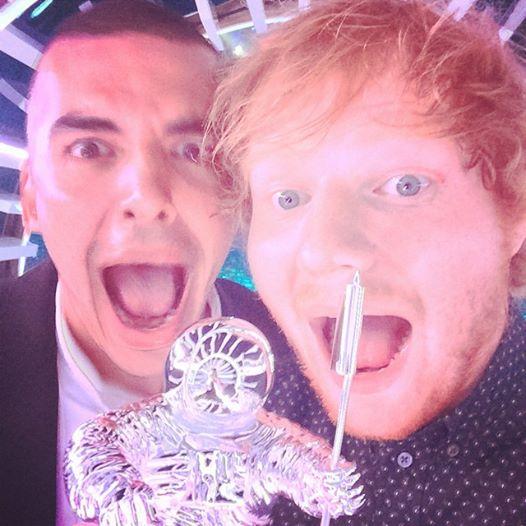 ​
Miley Cyrus scooped the biggest award of the night; but we'll get to that in a moment. Ariana Grande and Iggy Azalea, two of mainstream music's most promising prospects at the moment both shared the moonman after receiving the award in the "Best Pop" category for their single Problem. Drake will be sitting pretty after edging out some tough competition to come out on top of the "Best Hip Hop" video category. My favourite ginger Ed Sheeran won the "Best Male" award while Katy Perry proved to be a real Dark Horse in the "Best Female" category and walked away with the gold. 
The unexpected losers
After the year he's had we're surprised Eminem didn't win the "Best Hip Hop" category. Sam Smith has also had a strong year and his album, In The Lonely Hour has been one of my favourite listens of 2014. Unfortunately he didn't get the votes he needed and lost out to Ed in the "Best Male" category as well as Fifth Harmony, who picked up the "MTV Artist to Watch" award. Sorry, Sam!
Miley and the homeless man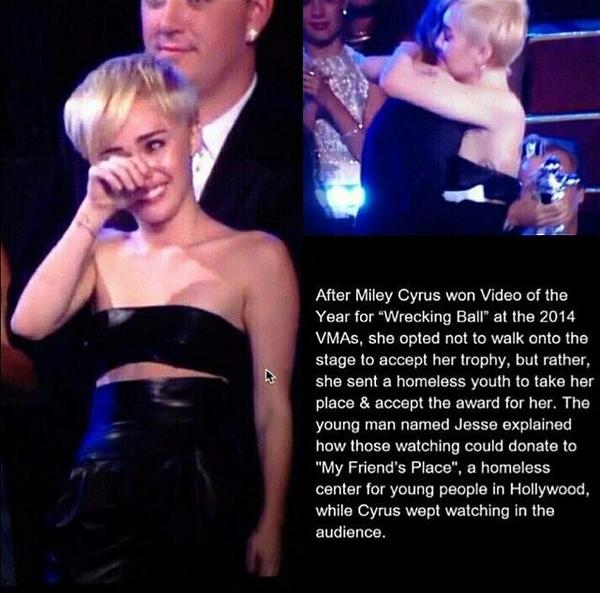 ​
The biggest award of the night went to the biggest act in music over the last 12 months, Miley Cyrus. The controversial pop star walked away with the highly coveted "Video of the Year" award, for her, erm, artistic single, Wreckingball. Miley, always one to grab the headlines made sure we were talking about her after the VMAs yet again (Remember this nonsense last year? Robin Thicke is still recovering bruh!) but this time it was for much less sketchy reasons. 
Upon receiving her award, Miley shared her moment with a homeless man, allowing the youth named Jesse, to give a speech in her place. Jesse said,
"Thank y'all, my name is Jesse and I'm accepting this award on behalf of the 1.6 million runaways and homeless youth in the United States who are starving, lost and scared for their lives right now. I know this because I am one of these people," 
Nice touch Miley.
Beyonce and Blue Ivy's synchronised dance routine?
If there was an award for "Performance of the night" (And really, there should be one!) it would have gone to the incredible Beyonce. Amidst rumours of her troubled love life, the ever-so-professional Queen B' took to the stage to do what she does better than anybody else; perform like a beast. Bey performed a 12-song medley of hits taken from her self titled album, Beyonce. Even Blue Ivy joined in! 
Taylor Swift is really digging hip hop lately...
First there was this video last week, now Taylor is bopping to Iggy Azalea trying to look like a G? This is how it started with Miley Cyrus. Then, you know, last year's VMAs happened...
Nicki Minaj's snakey performance
Nicki Minaj and the magical team of pixies that dresses her up for each performance will have shuddered in embarrassment last night after Nicki's outfit, er, malfunctioned! The fiery hip hop star performed her new hit, Anaconda and as expected, it was filled with lots of scantily clad ladies and plenty of twerking. It got a little out of hand when the outfit unzipped itself; plus E! Entertainment is reporting that one of the dancers was bitten by a snake while on stage. I don't care how much you pay me, you'll never let me perform live with snakes. That's probably why I'm not a backup dancer to an international-chart-topping artist, but I'm happy sitting behind the ZAlebs desk thank you very much!
​Nicki trying to cover up her malfunction!
Full list of winners
Don't forget, you can watch the MTV VMAs on MTV tonight at 9PM. In the mean time, you can have a look at the full list of winners below: 
Video of the Year:
Winner Miley Cyrus - "Wrecking Ball"
Iggy Azalea ft. Charli XCX – "Fancy"
Beyonce ft. JAY Z - "Drunk In Love"
Pharrell Williams - "Happy"
Sia - "Chandelier"
Best Hip Hop:
Eminem - "Bezerk"
Winner Drake ft. Majid Jordan - "Hold On (We're Going Home)"
Childish Gambino - "3005"
Kanye West - "Black Skinhead"
Wiz Khalifa - "We Dem Boyz"
Best Male:
Pharrell Williams - "Happy"
John Legend - "All Of Me"
Winner Ed Sheeran ft. Pharrell - "Sing"
Sam Smith - "Stay With Me"
Eminem ft. Rihanna - "Monster"
Best Female:
Iggy Azalea ft. Charli XCX - "Fancy"
Beyoncé - "Partition"
Winner Katy Perry ft. Juicy J - "Dark Horse"
Lorde - "Royals"
Ariana Grande ft. Iggy Azalea - "Problem"
Best Pop:
Pharrell Williams - "Happy"
Iggy Azalea ft. Charli XCX - "Fancy"
Jason Derulo ft. 2 Chainz - "Talk Dirty"
Winner Ariana Grande ft. Iggy Azalea - "Problem"
Avicii ft. Aloe Blacc - "Wake Me Up"
Best Rock:
Imagine Dragons - "Demons"
Arctic Monkeys - "Do I Wanna Know"
The Black Keys - "Fever"
Winner Lorde - "Royals"
Linkin Park - "Until It's Gone"
MTV Artist to Watch:
Sam Smith - "Stay With Me"
5 Seconds of Summer -"She Looks So Perfect"
Winner Fifth Harmony - "Miss Movin On"
Charli XCX - "Boom Clap"
Schoolboy Q - "Man Of The Year"
Michael Jackson Video Vanguard Award:
Beyoncé