There's a new low budget film that is about to make waves in the local film industry this winter: Blood Tokoloshe, Dawn of the Beast. The film has been highly anticipated and is set to be screened at the Durban Film Festival.
The film deals with a concept that many South Africans can relate to very well, especially during our childhood years. Amariam Pictures is finally forcing us to confront our childhood fears as they bring the mythical creature that is the Tokoloshe, to the big screen. Producer of the film, Pascal Schmitz, talks us through his inspirations behind the movie.
Why Tokoloshe, why base a film on a mythical creature?
Well mostly because everybody loves it and some people can relate to the stories of tokoloshe.  We also wanted to create a commercial format of a film that we could franchise in order for us to be able to create a sequel of the film; the other reason was that the budget was very limited so there was no marketing therefore the idea was that everybody would know and recognize the name of the film.  Nowadays in film people go for recognizable subject matters, they go for franchises and just things they can relate to and trying to create something new and make audiences watch your new material can be quite difficult.  Tokoloshe is a subject that all South Africans know about quite well.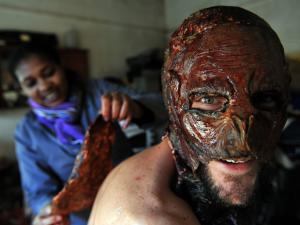 In one article you said that your test audience laughed at 78% of the movie, so would you say that the movie is comedic?
I wouldn't say it's comedic, the film just plays on a lot of South African cultural quirks it's funny because most of the audiences watching could identify with the incidents that were occurring in the film. "Blood Tokoloshe" is very entertaining film but I wouldn't say it was comedic.  It is essentially a horror film with some gags here and there but we were not looking at taking the film into a comedic route there are scenes which are quite scary.
As a white person researching about such a mythical creature, what was your reaction to things you'd hear or read up about Tokoloshe?
You know what's interesting is that we did our research with an actual sangoma and during the research process we heard so many different versions of Tokoloshe which was great because it gave us a lot of creative writing to work with because there's a different mythology of the creature in every province of the country.  I was just really impressed at the different kinds of Tokoloshe's a person can encounter.
The DVD has been selected for the prestigious Durban film festival, what does this mean for you?
Primarily with this film we're trying to build a franchise that will essentially be written and directed by people from the Orange Farm Township.  We wanted by all means necessary to have the Orange Farm community to be involved in creating the film but with development you have to put in a lot of time without pay to up skill the community so it was a bit of a challenge to do that so by us being selected for the festival is a bonus because this means we get more publicity and funding to help us create a sequel that will be written and directed by Orange Farm community members and obviously the festival opens up the opportunity for us to showcase the work to international audiences too.  The aim is to create 3 to 4 movies in a year which will also assist in creating jobs for the local community so they can make a living from creating films.
People will be able to download Blood Tokoloshe on their phones. 
Tokoloshe is set to be played by a white guy is that you?
[Laughs] no it wasn't me the Tokoloshe is done by a guy called Donovan who volunteered to play the character of Tokoloshe.
For those who are unaware "Blood Tokoloshe: Dawn of the beast" will also be available on a cell phone app known as High density Commuter Arial done through Wi-Fi distribution it will be rolled out by the end of August for everyone to buy and download for R4.  The film is 74 minutes long so it should be a definite treat for those on the move every day.
Don't forget to follow us on Twitter and find us on Facebook!