After the debacle of Thursday afternoon surrounding D'banj, Bonang, and a lady who goes by the name of Adama Indimi, many followers of Bonang defended her and insisted that other people should actually mind their own business.
But of course, we live in a free-speech society, where people can say whatever they want, even when it's uncalled for.
Bonang's Instagram was inundated with comments of people saying this, that, and the other. One follower on her Instagram account had said that D'banj was her man. Bonang corrected the follower by clarifying that she doesn't have a man.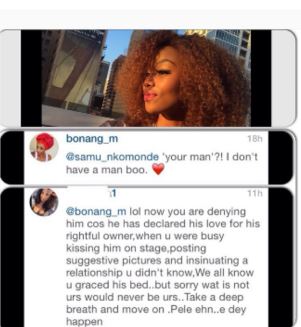 So we guess that infamous kiss between her and D'banj at the MTV MAMAs was a publicity stunt? If so, it sure did work because it had people talking the entire weekend.