Kelly Khumalo was left furious after finding a report online that claimed she was pregnant with Arthur Mofokate's baby!
An online "news" site published the shocking story on Wednesday – claiming that "Kelly confirmed that she is three weeks pregnant" with the Kwaito star's child.
The only problem is Kelly is far from pregnant.
"This is a joke right?! It better be coz if it's not weZinja Ingabe nangifunani? (you dogs, what do you want from me?)," Kelly captioned a screenshot of the story in question on Instagram.
Yes, it is a joke, Kelly, (a very bad one), because the piece is actually "satire". Actually, this is far from satire, this is just pure rubbish.
READ: Kelly Khumalo puts fan on blast
But Kelly had no idea, and was left disgusted by the story: "This time around ngizonibonisa unyoko nijwayele ukubhala amasimba ngami ngithule (this time around I'm gonna show you, your mother, you're used to writing sh** about me and I keep quiet), you will give a me date, time and place of where @arthurmafokate got me pregnant and how, or I must be Virgin Marry got pregnant by the holy spirit, I hope to God you have proof of such serious allegations, ngizonibonisa unyoko!!!! (I will show you, your mother)."
We don't blame, Kelly. That is one crazy story - fake or not!
READ: Kelly Khumalo's emotional Valentine's Day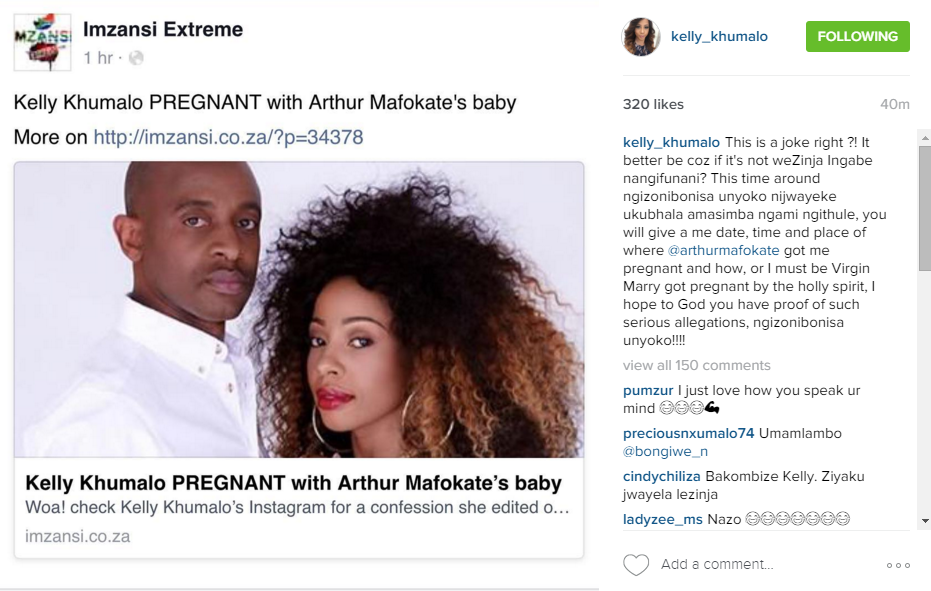 Image credit: Instagram/arthurmofokate