We sat down with Thando Thabethe recently and  had a long, fruitful discussion touching on her career which continues to go from strength to strength, as well as her personal life and her views on love.
After having been given bad directions (the fault of our editor, Tinashe!) She finally arrived and we were able to have a lovely chat over pizza and a glass of wine. 
She kicks off by joking "I'm not a talker, I'm very quiet" So how on earth can she be a radio and TV personality as well as an actress?
"Well, you know how Beyonce has Sasha Fierce? I have an alter ego." 
This leads us to wonder: Can you make it as a presenter if you're a shy person, but have an outgoing alter ego? She assures me that it's possible.
"It's like an inner demon that comes out when the cameras go on, and you do everything you need to." 
Jokes aside, she fills us in on her secret to her success; the biggest skill in her repertoire is her ability to talk. It's one that many take for granted, but the natural ability extends to further than just talking. She's an entertainer. She captivates audiences and knows how to make sure the attention gravitates towards her. We ask if she's in love with what she does, to which she confidently replies:"Oh yes. I'd marry my job."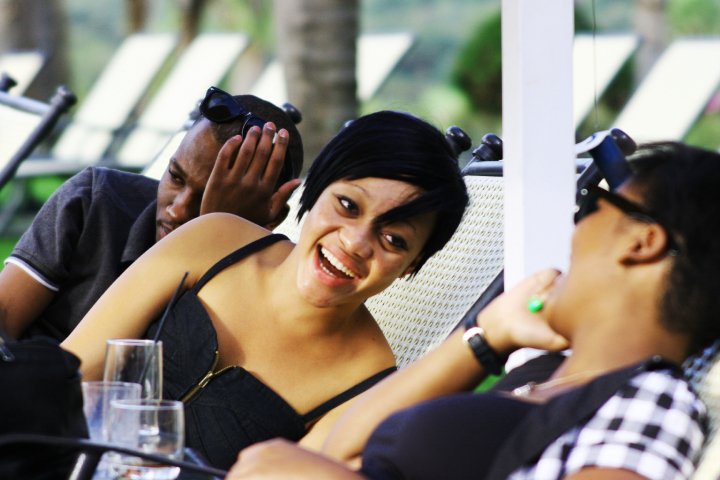 That sparks a little bit of curiosity on our end and we start quizzing her on marriage, love and relationships.
"People who are too young shouldn't be living with their partners. They stay together for three years, get married and get bored in the next two." 
She's very stern in her opinion of men who believe they are in love too young and lose interest.
"You should each have your own place and visit each other before getting married, and then take it from there." 
We ask if she's dating someone. "I Am!" 
But she won't tell us who, or even hint. The only thing she tells us is: "He's funny." 
What kind of duys does Thando Thabethe date?
So we begin speaking hypothetically. She tells us that she couldn't date a famous man. "He must have absolutely nothing to do with the industry. He mustn't be famous. I already think men are such problems, and giving him fame already elevates it (laughs!) But in all seriousness, I'm out there, I've got a lot of attention, I couldn't handle him having as much as me. I'd like my spotlight." 
"In terms of the guys I date, I want to know that he's trying his hardest for me. I understand that I can get let down, but as long as you're trying that's fine. Men need to just not lie to me, or cheat on me. I date someone and expect the best of them." 
Very strong words from a wise young lady. One thing is completely apparent in our lunch; Thando knows what she wants out of life. Whether it's work, relationships or even wine. She radiates positivity and ambition and it is this attitude that has been crucial to her success. 
We ended off the lunch by putting her to the test on our brand new 59 Second challenge. Check it out to see how she did!
We want to thank Thando for taking the time to meet up with us as we had an enjoyable afternoon with her. 
Don't forget to follow us on Twitter and find us on Facebook