Khanya Mkangisa is doing well for herself.
The 27-year-old has a role on Isidingo and also hosts Selimathunzi and she's proud of how far she has come. 
However, the journey has not been easy for the former YoTV presenter.
In the January 2016 issue of Bona magazine, Khanya, who is the cover star, has shared some of  the bad experiences she's had in the industry. She was first exposed to the dark side of the industry a few years ago when YoTV made her choose between acting and presenting.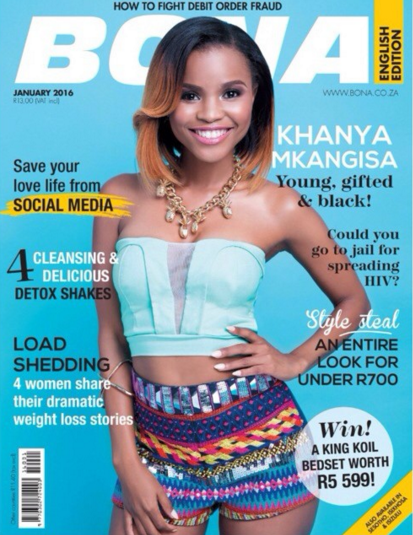 She told the magazine that while she was still in grade 11, she started pursuing acting and it seemed to be a problem with YoTV.
"My first role was a cameo on Mthunzini.com. Eventually, it came to a point where YoTV made me choose between presenting and acting. YoTV stopped booking me, and as a child, I didn't know what to make of that... It's shocking that YoTV made me choose. I was not going to be a kiddies TV presenter forever, and they knew that, hence I chose acting." 
She said being pushed out by YoTV was her first taste of the dark side of the industry. 
But that was not the only bad experience Khanya would have. Three years ago, she got another shock while playing Mpilo on Mzansi Magic's Zabalaza.
She explained: "I didn't like how the show let me go. The season had come to an end and we were about to go on a break. I assumed I'd be back on the show, but I was given the 'we don't know what to write for you' speech at the last minute. I hadn't been told that my character had been written off."
She said she received calls from journalists asking for a comment on how she was fired from the show because she was a diva. "That hurt. It made me realise you can't trust anyone in this industry. Once it's done with you, it gets rid of you just like that," Khanya told Bona. 
Image credit: Instagram