"I'm a movement by myself. But I'm a force when we're together." This is the perfect line to desribe power couples. 
When two powerful people get together, something magical happens. Not only do they look good in each other's arrms, but they also help to influence one another's brands in a positive way. 
Internationally, we have celebrity couples like Beyonce and Jay Z, Angelina Jolie and Brad Pitt, Victoria and David Beckam, who have taken the media industry by storm. They're great as individuals, but even more effective as partners. 
Wikipedia describes a power couple as "a popular or wealthy pairing that intrigues and fascinates the public in an intense or obsessive fashion".
READ: Mzansi's celebrity power couples
AKA and Bonang Matheba definitely come to mind after reading that definition. 
This has to be one of the country's most loved and hated couples; loved because their brands speak volumes (with over one million followers on Twitter each), and hated because, well, their love story started in a rather dramatic way. 
Hate them or love them, these two sure know how to excel in their respective careers, and they're huge influencers of pop culture. Bonang has worked her way up in the entertainment industry to become one of Mzansi's favourite TV and radio personalities, while AKA is one of the hottest rappers in Africa. Yes, we said Africa.  
She makes him better
A few weeks ago, the rapper took to Instagram to share how he's learned a few things from his woman. 
We feel there's really no point in being in a relationship with someone if they don't contribute positively to your life. Relationships are not just about fun and games, they're also about growth. 
She's his biggest cheerleader
You've probably seen how Queen B has been showing support to her man on social media. Whether she's retweeting his work-related tweets, or sharing how proud she is of him, Bonang is showing the world that she's 100% behind the award-winning rapper. That's what girlfriends do, right? 
They know how to get people talking 
Since the news about their relationship broke, Bonang and AKA have been a hot topic. People have shared, and are still sharing, their veiws on the couple. Some are totally happy for them, while others are still not conviced.
Oh, and it looks like every single move they make becomes news; whether it's him posting her as his Woman Crush Wednesday (WCW), or her sharing how much she loves wearing his clothes, Bonang and AKA just know how to get Mzansi talking. All the time. 
Who can forget that Friday when they made history on Live Amp?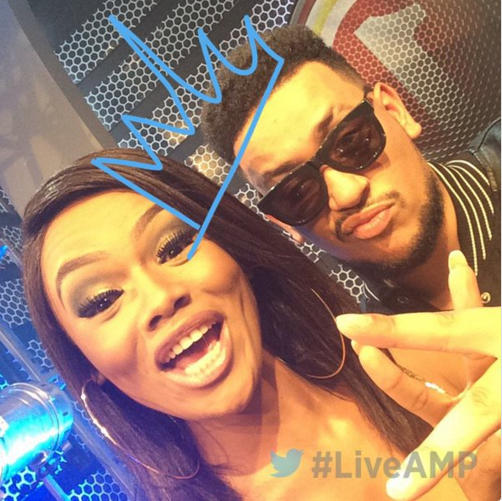 Now that was epic. 
They're just happy, man.
In her recent interview with SlikourOnLife, when asked about her relationship with AKA, Bonang said she's happy. In the video, the TV and radio queen cannot help but smile when the rapper's name comes up. Now that's happiness. 
What's the point of this article? Well, you figure it out!
Image credit: Instagram