With just over a month since Blessing Xaba, better known as 'Fatty' on the Spud movie franchise, opened his Youtube channel he has managed to scoop in over 80 000 subscribers. Blessing, who recently moved to Johannesburg to continue his acting career, chats to us about his latest venture and future plans for his fast growing Youtube channel.
You are a very entertaining individual and as you said on your first video, people have always asked you to create your own channel, what took you so long?
Well, the first step towards doing something is always the hardest! In my case, my apprehension was whether or not the Youtube community would receive me well. And I'm also not the most tech savvy guy out here, and it just took me some time to grasp all of the different gadgets involved.
Who are some of the South African Youtubers you enjoy watching?
I Love Preven Reddy and Caspar Lee if he counts. And I'm personally far more interested in YouTubers (and viewers) on a global platform, as opposed to local ones.
Why should people subscribe to your channel?
If they'd like insight into the life of a young artist, building his name, and finding himself all while trying to become a stage and screen star, mine is the channel to watch!
Describe your personality in 3 words;
Warm. Bold. Spontaneous.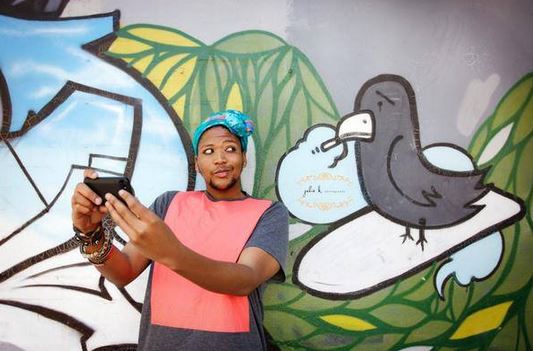 Would you say digital is the future? Support your statement;
Oh yes! Its all headed for the little screens in our pockets. Apart from media in that context being far more effective, it also reaches further, can be accessed at any time and has variety at its core! In the digital age, anything is entertainment!
List 5 of your favourite Instagramers;
I don't believe in Instagram, I think it makes people so vain!
Now that you're a Youtuber, before you were one, what were some of your hobbies?
Journaling, in hopes of being published when I die. And also playing- I make all my friends come to my weekend picnics that always ends up with us playing a bit touch rugby or soccer. I absolutely love the sun and outdoors.
Spud 3 is coming out later this month; what can people expect to see?
I wish I had seen it already, so I'm uber anxious! But it should be more mature and crazy. 
What do you love and enjoy most about the performing arts industry?
Being a part of it! I enjoy being part of the clockwork that can move people to laughter or tears or contemplation. I find my calling in that creative process.
List 5 South African actors that inspire you;
Brenda Ngxoli, who I got to work with on Spud.
Sparky Xulu, who's slowly rising in the ranks.
Sylvaine Strike
Mpho Sibeko (A newbie worth watching)
Linda Sokhulu
And international?
Meryl Streep
Kimberly Elise
How do you kill boredom?
Singing show-tunes, while I get through mounds of housework.
How often will you be uploading new videos?
Every chance I get…
List 5 things you miss about Durban, now that you are based in Johannesburg;
Kind people.
Moist air.
West Street.
Creative beggars at street corners teaching IsiZulu on bedazzling cardboards
Driving past Suncoast at night.
If you were to change a few things about Johannesburg, what would they be?
Well I'd give everyone more time in a day, so they would stop rushing about all the time. And maybe I'd get all the children to paint on walls in the city, so its more art than concrete. apart from that, I'd leave it as is, every city has its own sense of character.
Article by Sandy Nene