Kwesta
once had dreams of becoming a soccer player but his love for writing poetry took him down a different path.
The rapper has been described as an "artistic genius".


He bagged five South African Music Awards (SAMAs) in 2017 and is a multi-platinum selling artist.


When he is not promoting his music, Kwesta is giving fellow celebrities like
Mlindo The Vocalist
,
Sho Madjozi
and
Trevor Noah
shout-outs on
his Instagram page
.
However, things do not go so well for our artists sometimes especially when they have their names dragged through the mud and they are being accused for something they did not do. Kwesta is one of the rappers who's had a scandalous free life and he was recently hit by the biggest storm in his life.
Kwesta was recently accused of being involved in an altercation that involved shooting people, but the rapper came out to clear the air on the whole incident.
Here's a look at Kwesta's biography.


Kwesta and Zola Collabo
Well, true lovers and fans of good music know that
Kwesta and Zola
are master when it comes to giving out great hit after great hit.
With that no one can deny the power of social media. All it took was for Kesta to reach out to Zola suggesting that they hit the stood and make some great music for the masses.
Zola the responded:
"Asijabulise abantu"
.
Can the news be more exciting than this? Such an idea set the Twitter streets ablaze and many are already waiting with bated breath to hear what the final product will sound like!
Kwesta and Jameson Deal
This is one artists that never sleeps and is always proving that hard work definitely pays off. Staying at home during this lockdown is proving not to be a bore after all.
Jameson Irish Whiskey
is making staying home better, bringing the perfect night out into your living room with
Jameson Connects: The Stay Inn
,
a playbook of live virtual events. This is anchored by award-winning rapper Kwesta and local funny man Glen Biderman-Pam.
Keep watch for your faves live Lalla Hirayama and Tumi Morake to keep you entertained.
Jameson Connect: The Stay Inn
aims to eradicate all social borders or boundaries whilst encouraging us to overcome our fears and reconnect as a global family. Be sure to keep your notifications turned on.
Kwesta Shooting Incident
What was meant to be a day filled with so much fun and dancing to good music turned into a nightmare for some.
Five of Mzansi's biggest rappers,
Big Zulu
, Kwesta,
Youngsta CPT
,
Stilo Magolide
and
Zakwe
were shooting a video for Big Zulu's hit song,
Billion
and before they knew it, they were dodging bullets.
This happened just as they were wrapping up the shoot and two people were seen to be involved in some kind of altercation. Big Zulu stepped in to try and remedy the situation and when it seemed to have died down they all thought the moment of terror was over.
Unbeknownst to Kwesta, he got a call from people accusing him for the shooting.
"Later in the evening I started getting calls that I am being accused of shooting people. I would like to declare that this is not true and that I was not involved in any altercations that led to people being shot," he declared.
Imagine getting a call you never thought you would get, Kwesta must have got the shocker of his life. Clearly , Kwesta had nothing to do with it and he took to social media so that he could clear his name.
Kwesta's Age
Kwesta was born on August 11, 1988. He is 31 years old. Kwesta grew up in Katlehong, a township located east of Johannesburg. He described his childhood as a happy one and had dreams of becoming a soccer star.


Kwesta's Real Name
Kwesta's real name is Senzo Mfundo Vilakazi. He previously called himself Quest. The rapper came up with his name when he started writing poetry as a teenager.


"I wrote all the time. Whenever I was finished with training, I'd just go home and write. It felt like all of this writing was a quest that not many people would understand. I was on a quest to say my piece, and as I started rapping, it just made sense that my stage name should be Kwesta," he told ClubX magazine in an interview.


Kwesta Wife
Kwesta has been a one-woman man for many years. He has been in a relationship with Yolanda Mvelase for more than seven years. Yolanda revealed that she was not attracted to Kwesta at first.


"My friend called me up and said, 'can you please do my guy a favour, he needs video girls'. So, I went there for my friend and I met him and he wasn't my type," she said in a video posted on
Sony Music Africa's Instagram account
.
Kwesta Wedding
Kwesta and Yolanda made their relationship official when they tied-the-knot in a traditional wedding ceremony in KwaZulu-Natal in 2017. They held their white wedding in March 2019. Some of the famous guests included LootLove, Reason, Tshepi Vundla and JR.


"What a song you are. I may never be worthy to dance to it but I'll burst my eardrums trying to listen right and break my legs learning the moves. I love you @yonessavv Let's make music forever," Kwesta captioned a picture from his big day.


Kwesta's Daughter
Kwesta and Yolanda have a daughter named Khai. She was born on October 13, 2012. Kwesta takes his role as a father seriously. His own dad abandoned him when he was just five years old. Kwesta's song, Johnnie (Keep Walking), was inspired by his father leaving his family.


During an interview on Real Talk, he revealed that even though he was young when his father left, he could tell how the abonnement affected him.


"There were obvious changes like now you understand that there is one paycheque and there's 3 kids. The reality is that you are not gonna get them soccer boots, your'e not gonna get those things because right now, as little as I was I could see that there's a big difference in what we're eating," he said.


His daughter, Kai Vilakazi has shown early signs of being a potential singer in the future. The streets of social media were left thoroughly impressed with Kai's singing talent. Baby girl sang
Nasty C's
hit song,
SMA
featuring
Rowlene.
Kwesta's Music
Kwesta's music career began when he was a teenager. The rapper turned his love for poetry into music. He would sing his poems over beats her created on a music program called FruityLoops (now known as FL Studio).


Kwesta started a group called, Ghetto Fellaz, with a few of his friends in 2003. The group eventually changed their name to The Juvenylz. Kwesta said there was no real goal for the group and they just enjoyed making hip-hop music together. They would do rap sessions during school breaks. He described the group as a "high school hobby". Kwesta dropped out of high school when he was 16 to focus on his music.


Kwesta started making his own music in a makeshift home studio as a teen. He recorded his first demo in the studio. He used the demo to convince a local record company to allow him to use their recording studio.


The rapper eventually caught the attention of Buttabing Entertainment – a label owned by rapper Slikour and Shugasmakx.


Kwesta released his debut studio album, Special Rekwest, in September 2010 when he was just 22 years old. He describes holding the album in his hands for the first time as the highlight of his career. Some of the album's singles include Stomp, Pump It and Babhemi.


Three years after the release of his debut album, Kwesta dropped DaKAR (Da King of Afrikan Rap), through his company, Urbantainment. In February 2016, he released his third and most successful album to date, DaKAR II. He became the best-selling hip-hop artist in South Africa's history when the double-disc album was certified seven times platinum in 2018.


Kwesta has worked with Cassper Nyovest, AKA, Tweezy, Solo, Thabsie and Nota. He has also collaborated with American rappers Rick Ross and Wale.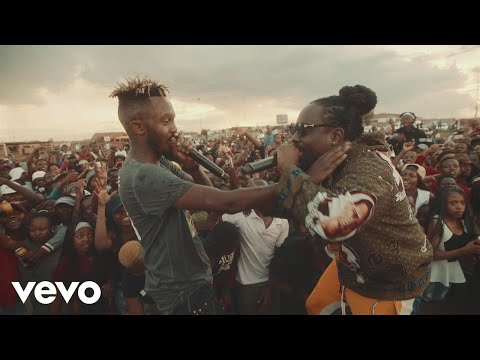 Here's a look at some of Kwesta's top songs:


1. Ngud'
2. Vur Vai
3. Spirit
4. Khetile Khetile
5. Johnnie (Keep Walking)
6. Hyena
7. Nomayini
8. Mmino
9. Day One
10. Ngiyaz'fela Ngawe


Kwesta's Record Label
Kwesta is currently signed to his own independent record label,
RapLyf Records
. He started the label with fellow rapper Kid X. Kwesta released his third album,
DaKAR II
, under the stable. Some of the labels other big stars are Makwa and TLT.
The RaoLyf launched its own clothing line in 2017. The line, which is called RapLyf, sells items such as French terry hoodies, swimsuits, leather caps and t-shirts.


"For me, this has always been a growth thing. When I started, I always tried to switch it up and change things up to be beyond just music. That's why we started Raplyf [Records]. This whole thing is literally called Raplyf and why you don't see my name on it is because I don't want it to be about Kwesta," Kwesta told IOL Lifestyle in an interview.
Kwesta's Awards
Kwesta has won several awards since releasing his debut album in 2010. His second album, Dakur, won "Best Rap Album" at the Metro FM Awards. He also took home "Lyricist of The Year" award.


Kwesta's third album, Dakur II, was a big success. His song, Ngud' featuring Cassper Nyovest, was awarded "SAMRO Highest Airplay of the Year" and "Best Collaboration" awards at the 2017 SAMAs. Kwesta also won "Best Male Artist of the Year" and "Best Album of the Year".


Kwesta House
Kwesta comes from humble beginnings so being able to buy his own home before turning 30 is a huge achievement. The rapper made headlines in 2018 when thugs broke into his Midrand house. The criminals stole a 55-inch smart TV, a Play Station console and three speakers. The stolen goods were worth R22 000.


Kwesta Cars
Kwesta has owned several luxury cars over the years including a BMW M4 and an Audi RS Q3. The rapper is not very flashy and does not post many pictures of his fancy cars on Instagram. He also drives around in sponsored cars when he travels to some of his gigs.
Read more:
Dr Tumi Biography: Family, Age, Wedding, Wife, Songs, Nominations

Lerato Kganyago Biography: Age, Boyfriend, House, Car, Miscarriage

Nasty C Biography: House, Car, Family, Girlfriend, Age, Net Worth

Main image credit: Instagram