It's been an exciting and eventful week on Big Brother Mzansi Secrets, filled with twists, turns and moments that had us glued to our television screens until the wee hours of the morning.  As we all know by now the bubbly Iris (21) has made it to the main house considering the emotional weekend she had after engaging in a physical altercation with disqualified house member Mbali. 
But unfortunately it was not only Mbali who left this weekend but also the three remaining members of the chamber house, Nku, Paris and Jenayne.  Earlier on this morning ZAlebs had the chance to interview the house-mates before they all headed back to reality.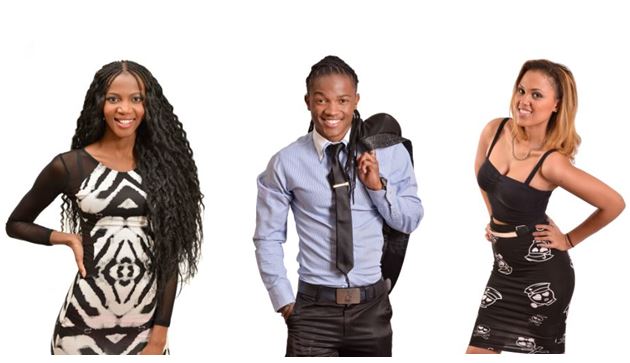 Our first question was directed to our personal favourite house mate - Nku, who was asked if she was nervous about her family's reaction once they saw her vivacious behaviour in the house.
"I was nervous all the time! I had conversations with Jenayne about how worried I was at my family's reaction towards all of this.  The house was also so comfortable and I was getting along very well with the other house-mates which just fuelled my free-spirited nature and led to all the crazy and funny things I'd do in front of the cameras. Funnily enough I am still worried, I haven't spoken to my parents so I don't know the intensity of the backlash I'll be receiving when I see them. I'm very worried because I know I did come across as overzealous and over sensual but like I've just said that's me, two weeks is a long time to be fake."
We were glad Nku mentioned the word fake, and asked her if she thought Iris (who is also very true to herself) would survive in the main house which has been considered to be filled with a lot of "fake" people.
"I think it doesn't matter if the other house-mates feel threatened by Iris and want to get her eliminated because by the reaction of the public last night, people love her and they will work towards keeping her in the house.  I really believe that her followers are strong enough to keep her in the game regardless of how the other house-mates feel. "
ZAlebs then jumped into asking the "casanova" of the house, Paris, about house his musical ventures after Big Brother and if someone in the industry has already contacted him to work on an album.
"Well, it's still early days I still don't have my phone on me so it's still too early to say right now but hopefully those doors have been opened.   If not I hope I've left a mark that will have my foot already inside the industry doors."
No one could deny Paris's chiselled physique that had most women across South Africa salivating over the 23 year old music producer, who eighty percent of the time had his shirt off.  ZAlebs couldn't help but wonder if he would consider being a celebrity personal trainer, here's what he had to say.
"I've never thought about it that way, it's just a lifestyle that I brought into the house.  I'm just fitness junky who just likes to take care of himself, not because I'm self-obsessed it' just an image that I'd like to portray and an image that I'd like to maintain. So any opportunity that might also involve the image of the body portrayed in a positive light I'd definitely take."
Disclaimer: For those who were wondering how he gets the Nigerian accent to the T, let's just say he grew up in Yeoville, so we hope that answers your question.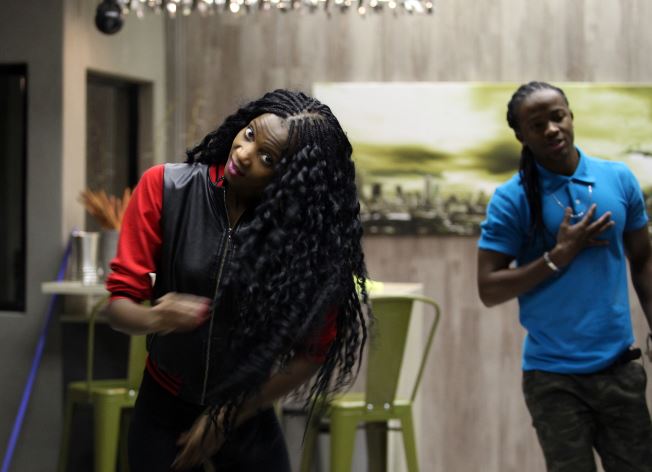 Last but not least, Jenanyne had the opportunity to speak to us.  We immediately asked her if she was nervous about how the public was going to treat her after she instigated the argument between Mbali and Iris.
"I was worried at first because I know that people can't understand especially if they're not there physically, yes they're watching us but it isn't as real as being right there and watching everything unfold in your presence.  I believe that I reacted in a way that I would've reacted if it were in any other situation, whether on TV or on the streets.  I also believe that too many people turn a blind eye to such things whereas my personality won't allow me to do such.  Even if my action could've placed my spot in the game at risk, I saw the reaction on her face and I could see that she was fearful at that time and that's what made me react to it."
Jenayne also added that her most favourite thing in the house were all the mirrors they were surrounded by and her most annoying experience in the game was that in the first week they didn't have simple things like butter but had amazing things like espresso's.
This week the ladies in the main house are up for eviction, we cannot wait for the conniving strategize that are about to occur for the next couple of days. Who do you think is leaving amongst the ladies?
Credit: Main & inside image articles by mnetmediamagic.co.za