ZAlebs spoke to Carmel Fisher today, hours before her Generations Debut tonight on SABC 1! See what the star had to say about this next bold step in her acting career. 

Many people might not be aware of this, but you've been in the entertainment industry for the past 15 years is there anything you feel you haven't yet achieved that you'd still love to accomplish?
Absolutely.... I want to feature in leading roles alongside the best in the country & the world, play as many different characters as possible & endorse a few big brands whilst cementing my own. 
Today marks the day Generations viewers get a first look at 'Cindy' your new character on the Soapie…can you give us a hint on what we can expect from 'Cindy' today?
Cindy is a law student who enters the show already being part of a polygamous association headed by Luthuli Dlamini's character, Scott. She is the main girl & is the one who actually really loves Scott for who he is & for saving her from of a deadly past. She is Scott's confidante & advisor.
Still on the topic of Generations how was your first day on set, for someone who has been doing this for 15 years do you even still get butterflies in your stomach when the limelight is on, especially on a huge platform like Generations?
I love what I do! And the butterflies are not from anxiety but from a sheer sense of excitement & fulfillment. My first day was great! The cast & crew were friendly & professional. We got our own dressing rooms & lockers & it was awesome to see some familiar faces from previous work done. 
You also come from a theatrical background, can the public expect to see you at any of our Joburg theatres anytime soon? That would be ideal but with Televison & Film taking priority right now, it would be very difficult time-wise.
What would you say is the greatest challenge for actors right now in comparison to 20 years ago and what would be your advice to actors (especially those who have received formal training but do not seem to score roles when auditioning?)  
Some of the greatest challenges affecting actors today are related to increased competition, technological advancements that can produce films without real actors & the wonder of HD. Filming in HD looks amazing but can also put pressure on the actor to constantly look great since this method is merciless in superior picture quality. Advice: Believe in your craft, remain flexible & learn all about the industry to better adapt to it.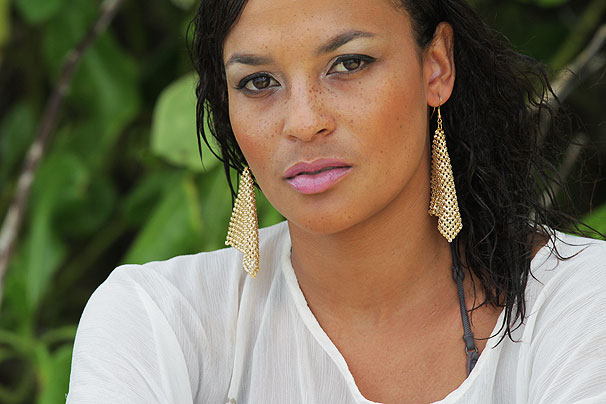 If you had to live out your favourite character in real life, which character would you want to be?  We personally loved you as Roxanne Campbell on Backstage.
Thanks... If I played her in real life, I'd get into a lot of trouble :-) I played a journalist once... She was exciting, adventurous & a great people's person. She wouldn't be a bad option. 
Apart from acting, what else is Carmel delving her hands into that we can be excited about?
There are definitely things in the pipeline but, as usual, if you leak too soon you could burst prematurely. I'll leave you with this. I love the industry in which I find myself & there are many untapped mediums that are just calling my name. It's all just a matter of time :-)   
Don't forget to follow us on Twitter and to find us on Facebook!