Our celebrity writer, Carmel Fisher, is back in town. Today she chats about some of the exciting events she has the pleasure of attending. From glitz and glamour, to goodness and giving, Carmel experiences it and is sharing it with the rest of us. Let's have a look at what she's had the pleasure of experiencing in the last two weeks.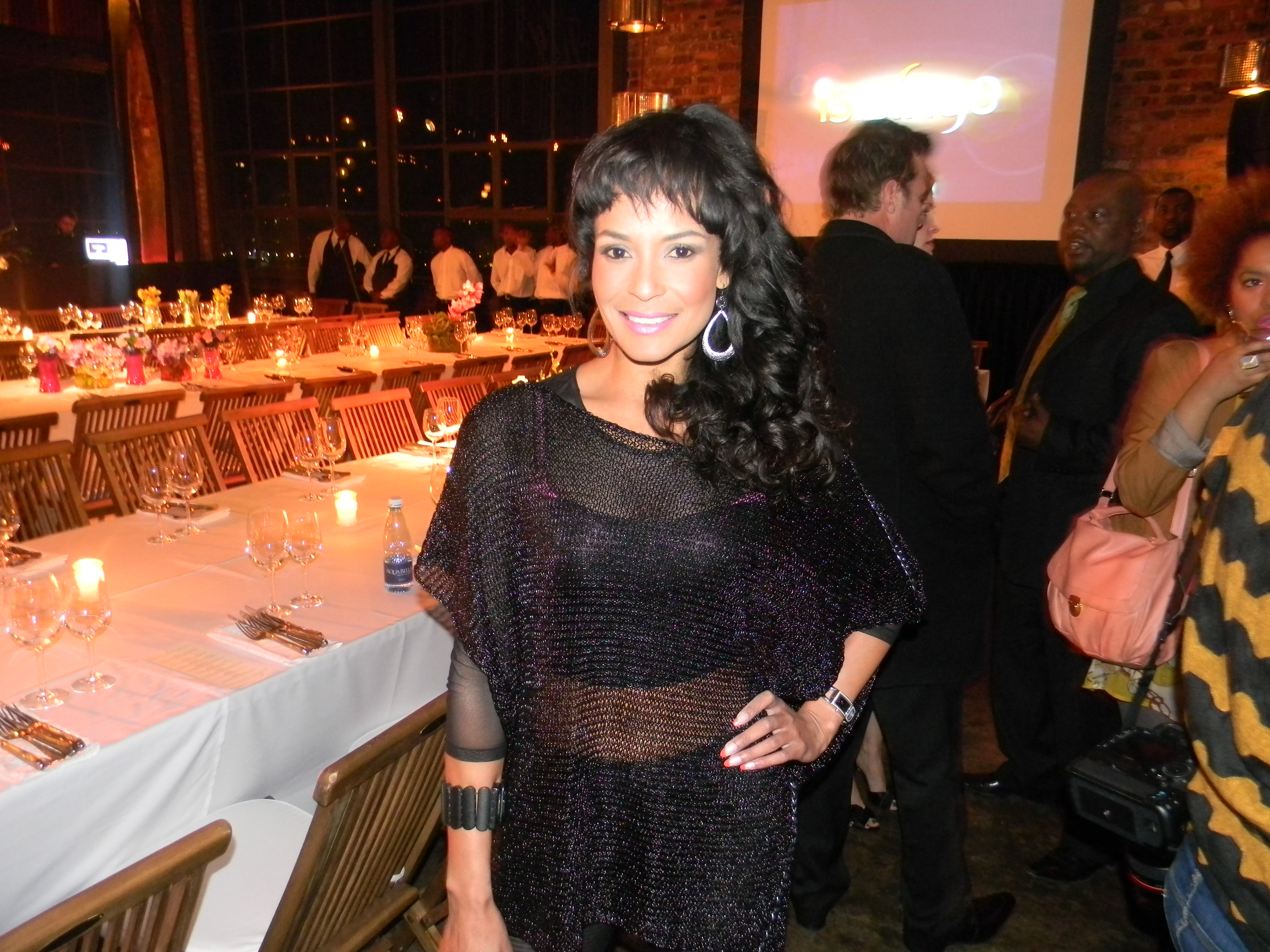 I am privileged to attend many events (thanks to my fabulous publicists at 4 Elements Media). Some  of these events are for pure entertainment pleasure while others ask you to offer a little something back to the communities who make-up our doting audiences.
In this image-conscious industry one has always got to look the part & a wonderful lady who helps me do this is People Magazine's Fashion Editor, Suzy Mukendi. I was thrilled when she approached me to be my personal stylist & jumped at the opportunity. Having Suzy & my publicist as part of #TeamCarmel are definite enviable tricks up my sleeve. Follow me on Instagram to catch all the latest looks.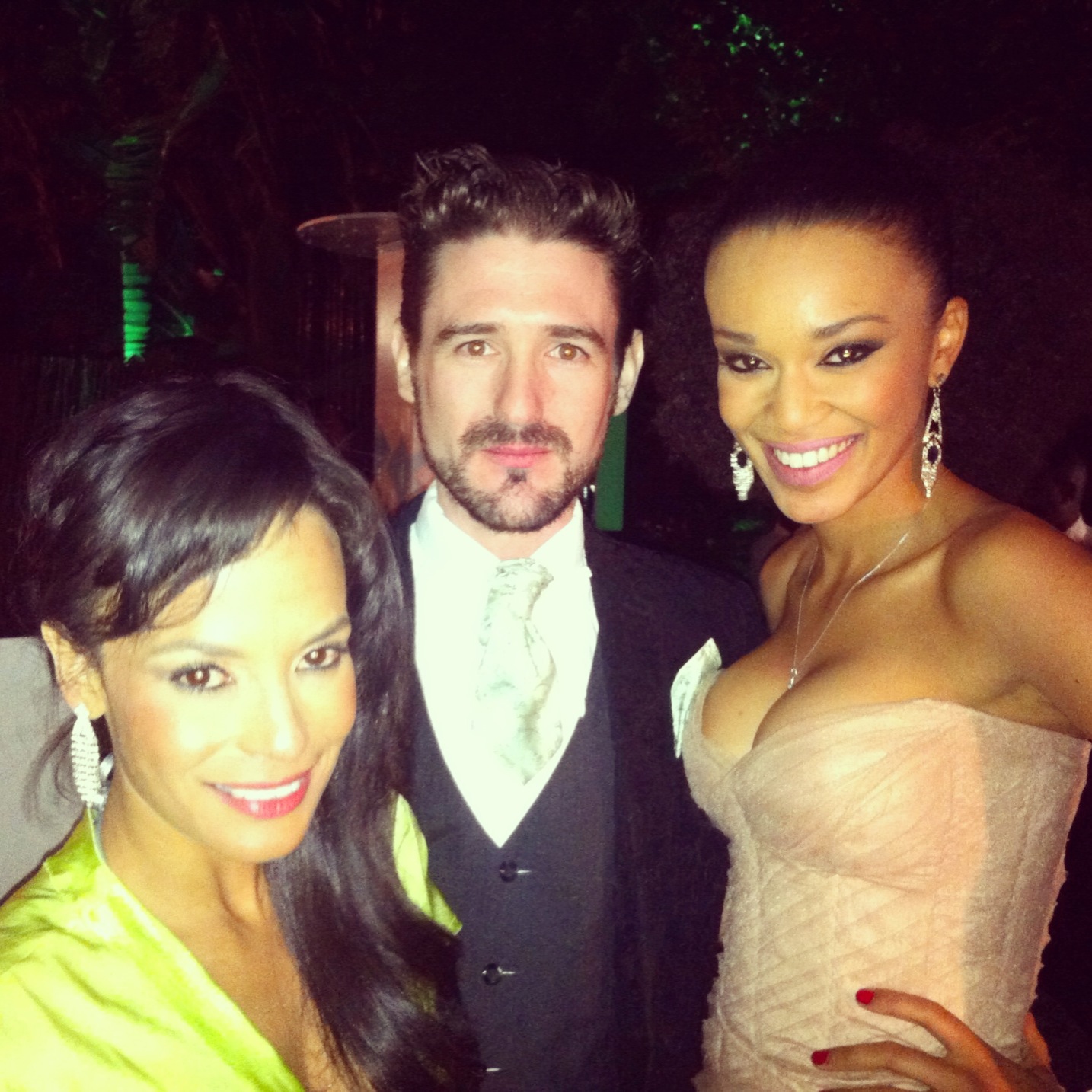 Carmel Fisher, Liam Stratton and Pearl Thusi at the SA Fashion Week Opening Party
My event-hopping pleasure in the last two weeks has been a magical blend of fun, class and giving back. It was kicked off by the auspicious SA Fashion Week Opening party held on 2 October at the Acorn Guest Estate in Sandton; a rather spacious outdoor venue. I attended wearing a Michael Kors flowy, silk green top with Swarovsky detail paired with grey silk fitted pants & floral heels, all straight from the shores of Mykonos, Greece. Looking equally dapper was my good friend & date for the night, Isidingo Head Writer, Liam Stratton who wore a black waistcoat & jacket with rouged detail on his crisp white shirt.
At the party, I bumped into many familiar celebrities who interpreted the open-ended dress code ('perfexion' with a touch of green) in their own, interesting ways. The look that stood out for me was a great design from Gert-Johan Coetzee showed off on the curves of actress, Jay Anstey. Sports Presenter, Wardah Hartley also glowed in her Avant Apparel evening gown & pink Manolo Blahnik heels.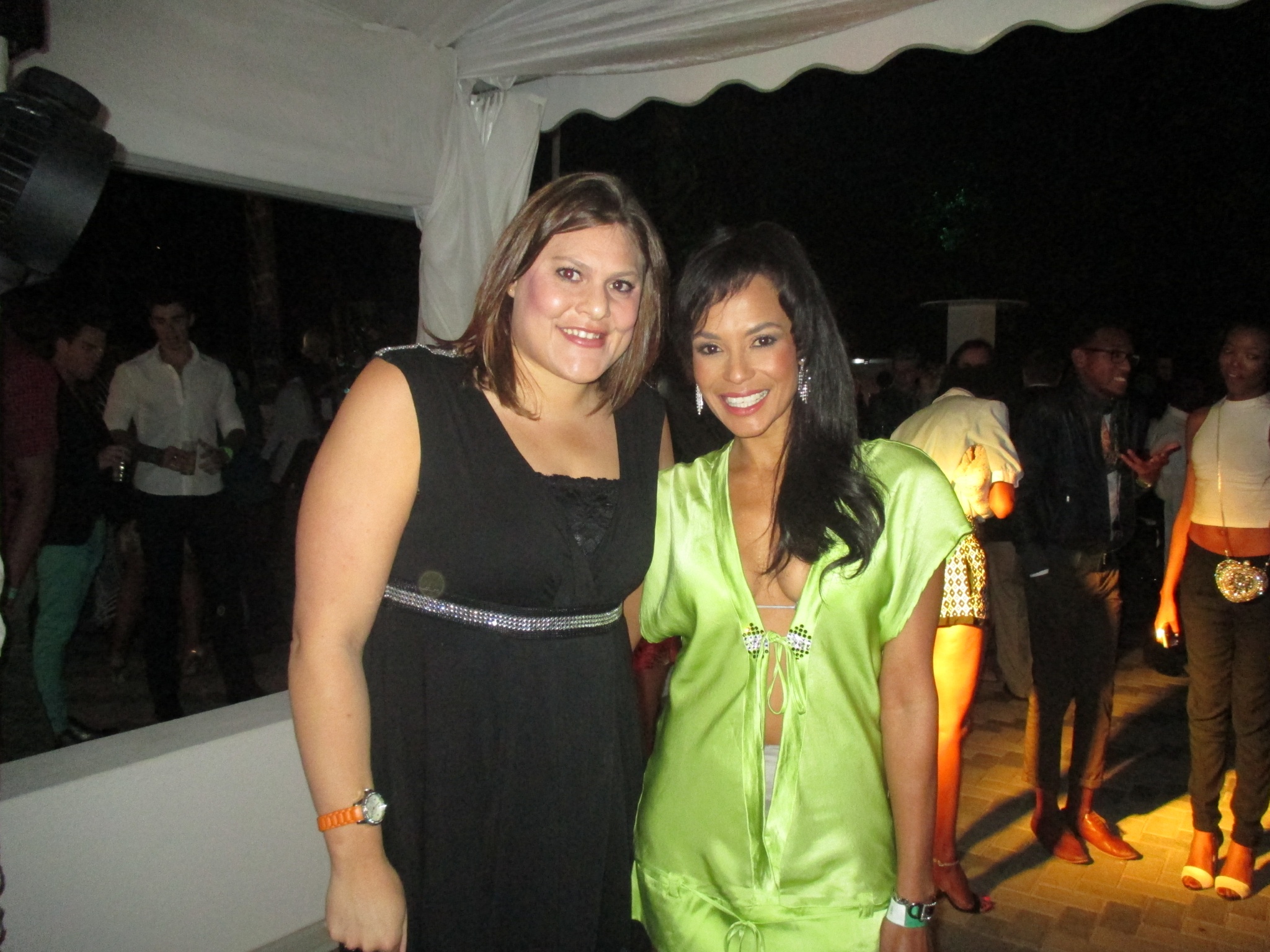 Carmel Fisher with retired Paralympic swimmer, Natalie Du Toit
The highlight of my night was catching up with retired, Paralympian swimmer Natalie Du Toit. The sporting legend recently received an honorary MBE (Most Excellent Order of the British Empire) from HRH The Earl of Wessex at the British High Commision. Not much else can be said about the party but that it was a true indication of the fashionable flavour that was followed up on at the actual fashion week shows.
The next lavish & star-studded event I was attending was the birthday party of hunky Top Billing presenter, Jonathan Boynton-Lee. Pre-drinks were held at Legacy Lifestyle's elaborate Cupola Suite in the Michaelangelo Towers Mall where guests were treated to drinks & canapés before being ushered downstairs to the popular VIP Room nightclub where all sorts of fun was had. The highlights of the night have to include Boity Thulo giving stern lessons on twerking & Simba Mhere coming very close to mastering the dance. The dance floor was kept abuzz by DJ Gennaro Bonafede & 5FM's DJ Fix. Jonathan's actual birthday falls in September but he could only celebrate it a month later with his friends due to extensive Top Billing travelling. Regardless, the hunky presenter was an amiable host regardless of his self-proclaimed reserved nature.
One can never forget about the importance of gift giving, though, and as much as I enjoy the lavish life, I never forget to give back to those who look up to me. I was honored when ex-Actor, Carlo Mcfarlane, & now Director of the 4Change Foundation asked me to judge the finals of their Multi-schools Production Challenge at the Lyric Theatre on 16th October. This has been a commendable 5year initiative that is moving from strength to strength.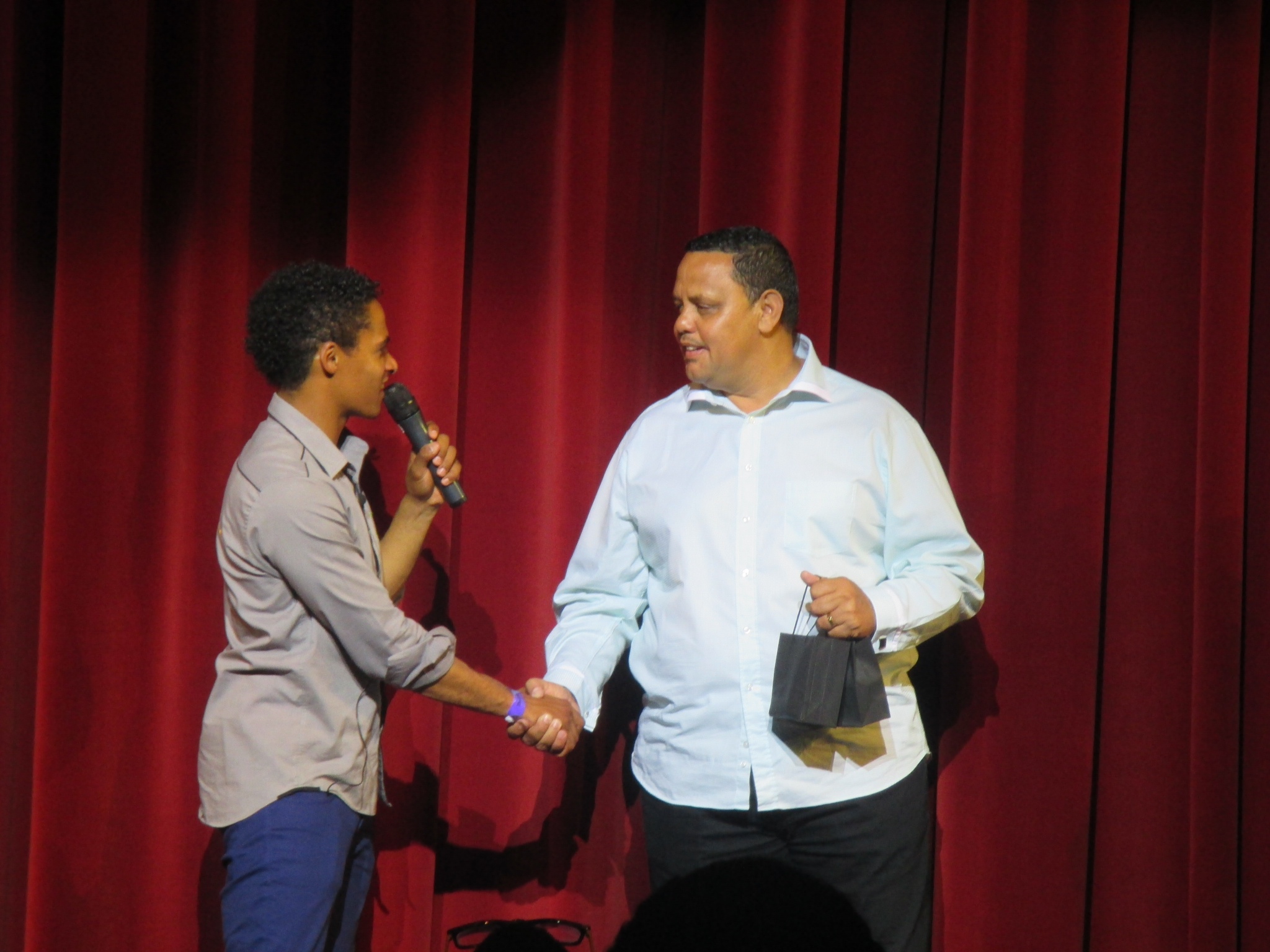 Carlo McFarlane (Director at 4Change Foundation) thanks owner, Pastor Holland
The foundation is principally aimed at uplifting & developing secondary school learners, giving them a platform to investigate their artistic talents & keeping them off the streets. 9 Schools were involved in the final & they are all from previously disadvantaged backgrounds, including Riverlea High, Silveroaks High (in Eldorado Park) & Randfontein Secondary School.
The performances were filled with talented potential & many possible additions to the new crop of untrained actors. According to the owner of the foundation, Pastor Holland, next year they'll be casting their helpful net much wider & hope to include 100 schools in the overall challenge. Stern competition gives birth to the best.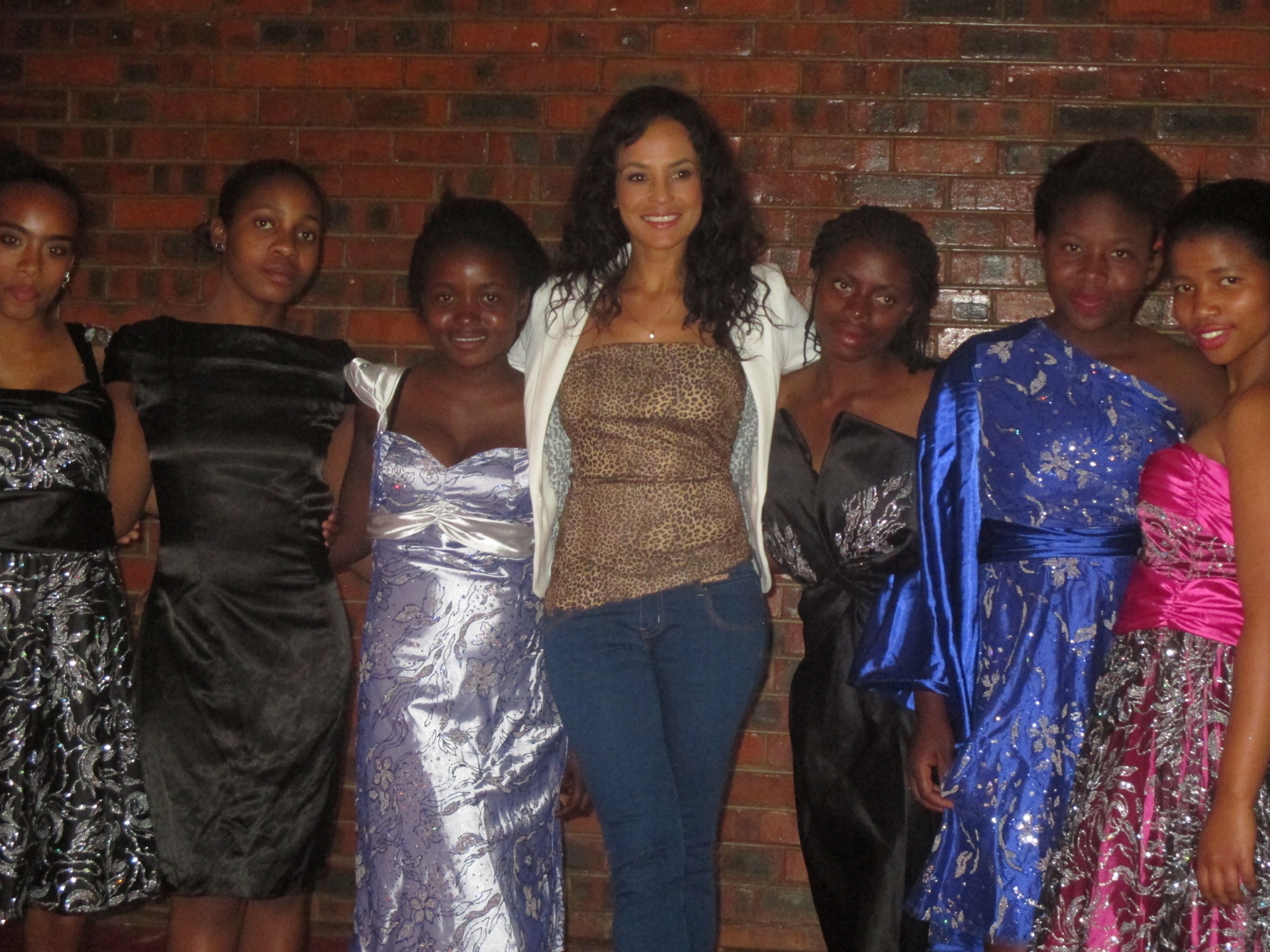 Another initiative of which I was proud to be a part was handing over some of my cocktail dresses to Kiara's Den (in Eldorado Park). Kiara's Den is a foundation (founded by Kiara King, otherwise known as Emelda) assisting matric girls in need of matric dance dresses. With matric dance season upon us, Emelda goes out of her way to source dresses from celebrities & anyone willing to donate. She also set up a hair salon & make-up parlour where she & a few friends come together to doll the girls up for the big night. If anyone is keen to donate dresses or anything useful, please contact: [email protected]. Your support would be greatly appreciated.
If you enjoy following Carmel's adventures, from the exciting parties to the heartfelt outreaches, don't forget to follow her on Facebook, Twitter, and Instagram.