More drama on the horizon, following
Gqom queen Babes Wodumo
managing to crack her husband's phone password. As well as everyone had already suspected,
Babes Wodumo
has threatens to expose all
Mampintsha
's dirt laundry for the whole world to see.
Read more:
Concerns Over Babes Wodumo Posting Via Mampintsha's Facebook Account
As if posting via
Mampintsha
's Facebook account was not enough, Babes Wodumo has shaken the masses as she threatens to release all the dirt including nudes as well as their owners that her husband and certain ladies were exchanging.
It appears the Gqom Queen took to WhatsApp again using
Mampintsha
's phone to level these claims. Although social media had already suspected that Babes Wodumo was working on a much grander retaliation once she had managed to open Mampintsha's phone. However, nothing could have prepared the whole of Mzansi the lengths
Babes Wodumo
was willing to go until last night.
"So ngizofaka inude neconvo ehamba nesthombe... mese kulandela umlando ukuthi loyo muntu uzwana kanjani nami.. abanye ke ama bank notifications nawo akhona" wrote Babes Wodumo via Mampintsha's WhatsApp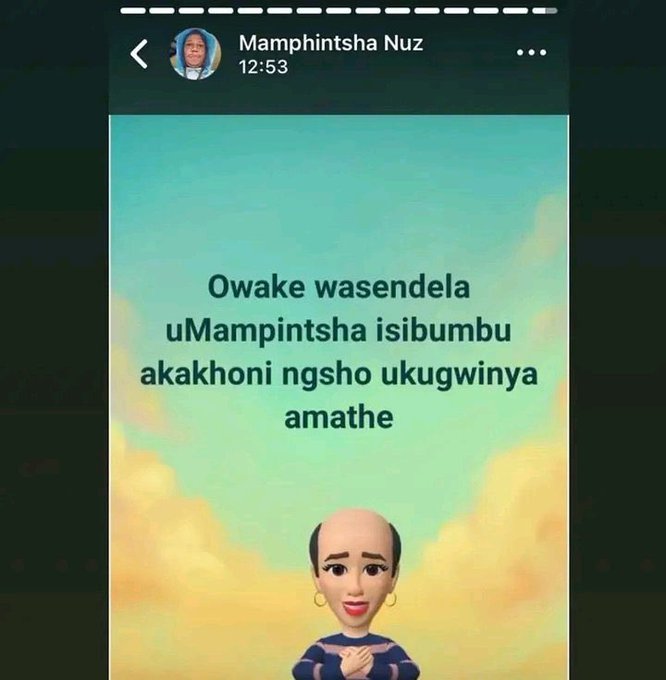 Instead, scores of people have shown support and pledge their allegiance for what
Babes Wodumo
has threatens to do. Evidently,
Mampintsha
was not the clean as a whistle in the streets and everything was revealed on their reality TV show Uthando Lodumo.
"Men celebrated Mampintsha's toxic masculinity when his wife said this, they praised him said "uyindoda emadodeni" now that Babes Wodumo has managed to unlock the phone same men are triggered & trying to degrade this poor girl calling her drunkard as if Mampintsha was holy. Sies" wrote
On season two, it was like
Babes Wodumo
knew about what was to transpire where Mampintsha was concerned, because she did not hold back to divulge shocking stories about
Mampintsha
. Babes Wodumo even made claims that Mampintsha was sleeping with some of her female dancers, texting with other female celebrities and that was embarrassing for her.
"Then its the girls he's busy with. When I log onto his Instagram I see the messages he sends to other female celebrities that I know. Some of them have told him to stop it because they know that he is married to me. Then he brushes them off by giving them compliments. He sends them the fire emojis and then he flirts with them and it's so embarrassing. One more thing, I've had male and female dancers, but he's gone and hit on all my female dancers and even slept with some of them. He's hurting me both at work and at home. When I fire these girls and get new dancers he does the same even with those ones. He's also dating some of my friends. That really hurt me." said Babes Wodumo
Babes Wodumo
is ready and prepared to go to war, despite laying her husband just last week.
Read more:
"Akuy'ntombi Lay'khaya'"- Babes Wodumo Finally Unlocks Mampintsha's Cellphone

Image Credit: ANMG