Bucie has officially been crowned the Best Female Artist in South Africa! This happened at the 21st annual South African Music Awards in Sun City on Sunday night, where we saw Beatenberg walk away as the biggest winners of the evening with six awards.
An excited and clearly overwhelmed Bucie took to the stage to accept her award. She said all the nice things that people say after winning, and the crowd cheered for her. But there was one little problem: The Easy to Love hit-maker forgot to thank Heavy K, who worked alongside her on the smash hit.
Clearly this was a mistake on her part, but the masses won't let her live it down. Some took to Twitter to point out the fact that Bucie sidelined the producer and top-selling artist, as they felt it was ungrateful of her.
@laninahbenzdj wrote: "Lol so @BUCIENQWILISO forgot to thank @HeavykDrumboss at the Samas? Wow! Ungrateful enough! Where does she get yellow bone tendencies?"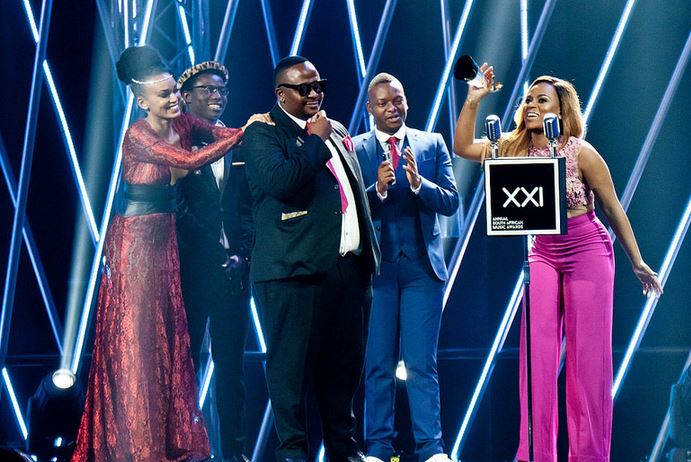 While @Nduduzo_ProE said: "HoW the Hell did Bucie forget to thanK @HeavykDrumboss during her speecH at the SAMASXXI!.."
Others felt the issue wasn't all that serious, as Heavy didn't make Bucie into the artist she is on his own.
@ThipaSam had a really good point. He tweeted: "Bucie was the Princess of House before Heavy K u forgot that was ftd on Black Coffee 'Superman' stop [email protected] @HeavykDrumboss."
And @Mxoh100 said: "@djtumza109 this guy @HeavykDrumboss didn't make @BUCIENQWILISO the queen she is, its her hard work n the award wasn't based on easy to love."
Good points, guys. Maybe Bucie was just too nervous and excited to even remember to thank everyone? Can you imagine standing in front of all those famous people? Oh the pressure! We're sure she didn't mean any harm. And, like it has been said, Bucie was Bucie before Mr Drumboss.