Cyan Boujee
has revealed that she left
Amapiano DJ Busta 929's record label Thupa Industry
due to a number of issues. One of them is that she alleges Busta wanted to have something more than a professional relationship with her, but she declined. Things went south from there onwards.
Read more:
Cyan Boujee & Boyfriend Bramzey Riches In A Sticky Situation
In a short statement, Cyan revealed that she is no longer managed by Thupa Industry.
"This statement serves to inform all promoters, brand partners and associates that I am no longer a Thupa Industry signee with immediate effect," the statement starts off.
She then outlined a number of issues she faced with the label, including them wanting her to trend for the wrong reasons so she gets bookings.
"I made the decision to leave Busta's record label due to the unprofessional behaviour which I will outline below. I signed to Thupa 5 months ago under an artist management deal. Upon signing to Busta's label, one of the managers from the label created scandals about me and their reasoning was that they can't secure any gigs for me without trending.
"The manager also insisted that I post other stuff to ensure that I trend for days. During this time I was also requested to promote Busta's songs and ALWAYS tag him. I was promised that we would have a song and EP ready at the beginning of August, however after many sleepless nights in studio with the team, none of the songs have been released nor handed over to me as promised," she added that her USB's would go missing.
She then cited "unprofessional behaviour and unfulfilled promises" as part of the problems. She also alleged that Busta blocked her number with no explanation provided and they "refused to let me terminate my contract until the assistance of my lawyer."
"In retrospect, I am not surprised by his behaviour as after signing he informed me that he would like to pursue something else beyond a business relationship with me, which I refused," she added.
Cyan then provided with new boking details.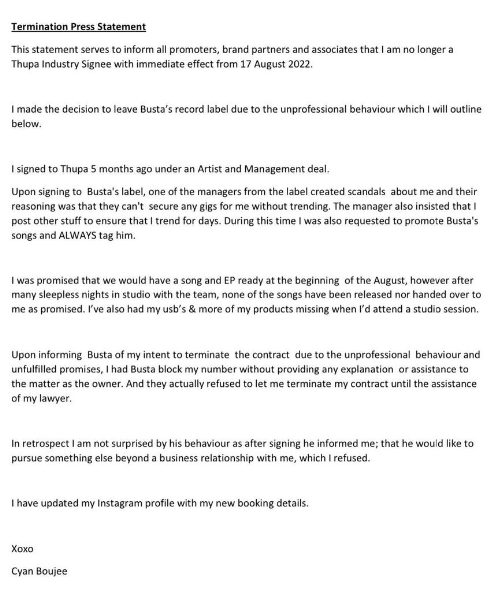 Read more:
Busta 929 Comes Under Fire For Allegedly Exploiting Mgiftoz Entertainer
Busta has always been in the news for the wrong reasons including alleged predatory behaviour and some even alleged he impregnated a 17-year-old. However, he has not addressed any of the allegations.
Just a few weeks ago, he was under fire for allegedly exploiting Mgiftoz Entertainer.
"I mean I work my ass out on most trending songs,not even Getting the credit I deserve,the are people up until today who don't know am the Vocalist behind, Sdudla no Slenda,Vandam ,Sgodo ,Yuriboyka, Nompumelelo and etc am writing this in tears cause I mean I have a daughter that needs me full force as a father n here iam famous but with a low bank balance,what more about my mother she invested alot on me wishing to see me successful and having enough money to take care of me if I can tell my whole story it won't be nice" wrote Mgiftoz Entertainer on social media,