According to EWN, after realising that she had killed her boyfriend, Flabba's girlfriend attempted to kill herself by slitting her wrists. This came after yesterday's news that Flabba had died after being stabbed in the heart by the girl who has since been arrested by the police.
"She broke a bottle and tried slitting her wrist" – Flabba's cousin, Luyanda told reporters.
Flabba's brother and cousin, vigorously tried to resuscitate the lifeless body of the rapper who was bleeding heavily from his stab wound to the heart but their efforts brought about no success. The girlfriend has since been arrested and charged with murder, she is currently being held at the Alexandra Police Station and will be appearing in court today.
When the news of Flabba's death was made known to the public, the hip hop community was not only in shock but left in grief especially considering how many of them had spent  their last memorable moments and performance with  the rapper this past weekend at the Axecess Jozi concert.
Two days before he died Flabba had enjoyed a successful performance during the Axecess Jozi concert at the Mary Fitzgerald Square. In high spirits, Flabba shared the stage with the likes of Riky Rick, Kwesta, L_Tido and Reason who revealed his last encounter with the late rapper.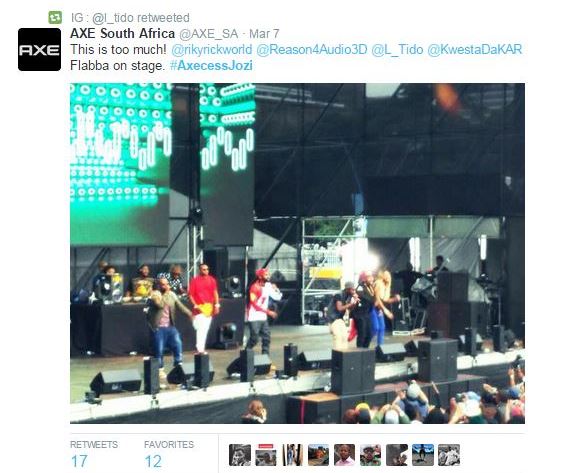 "The last conversation I had with Flabba was of me rapping his Rau Rau verse to him. You have no idea what a mind f**** that is to me right now." – He tweeted yesterday morning.
Meanwhile the Slyza Tsotsi boys, Major League DJ's also expressed how much of a great supporter Flabba was of their music, way before they were even famous.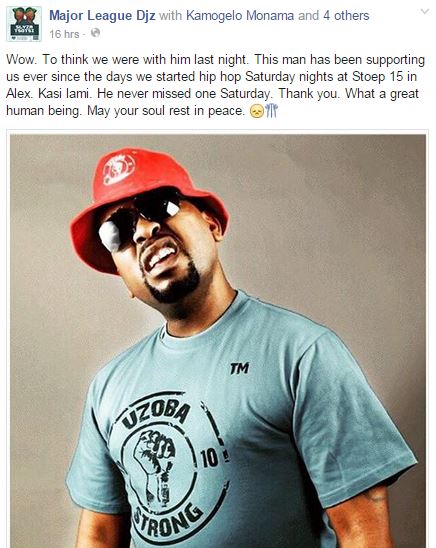 A poet by the name of Nhlanhla Masilela also wrote a very deep poem, dedicated to Flabba titled "Flabbergasted by your demise."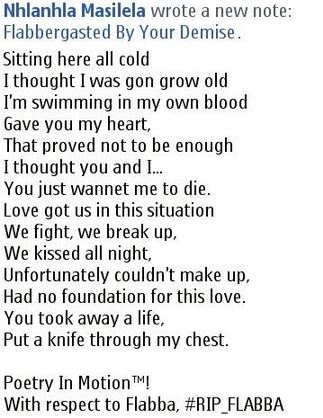 You can also check out other celebrity reactions to Flabba's death and look out for the interesting Flabba verses that some of our readers shared with us.
Flabba's memorial and funeral service dates are yet to be announced.