The 26-year-old yesterday started shooting his presentation 13-part cooking show, Something's Cooking, which debuts on Mzansi Magic at 7pm on October 26.
At his home in Norwood, Johannesburg, 15 group members, including his mother Lisa da Fonseca and close friend Charlie the bulldog,watched as he exhibited how to make feijoada.
It is his Portuguese way on umngqusho nenyama, samp and beans and meat, a prominent dish in Eastern Cape, where he lived his teenager years.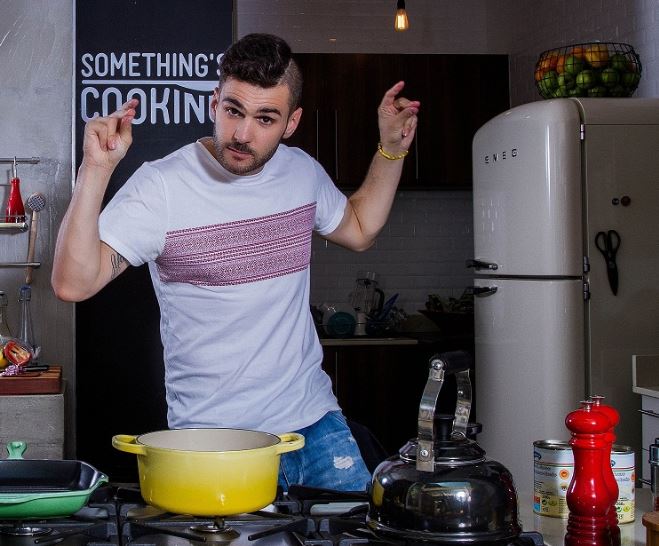 Be that as it may get straight to the point regarding it, Mrs da Fonseca is still the queen of the kitchen. Her child yells over the room for her support in the middle of takes.
It's a fun set. The real thing (isn't he always?) is singing Sam Smith's Stay with Me and sitting tight for course from arrangement chief Rebecca Christensen, and all she's worried about is whether his fingers are clean.
He's as of now made custard however before that Christensen needed to spray copious amounts of Doom to deal with two flies in the kitchen.
"Cut," she yells once more, as Charlie meanders into the kitchen during a scene.
They put the powerful yet small waterproof Gopro camera in the pot, to capture ingredients being spilled in.
Clarifying why this scene was shot in his kitchen (some episodes will be on location), Da Fonseca said: "This cooking thing is not put on - I'm doing it because it's who I am. I want it to be at home so that people really get a slice of my life."
Series producer Dale Herbst is joining forces with Da Fonseca on a "food autobiography (rather than another cookbook)".
His mother lives in Port Alfred however is in Johannesburg to spend time with her jet-setting son.
"I'm so grateful that he chose the kitchen to relax in during his free time," she said.
"I can't claim [his culinary talent]. I'm not as adventurous," she laughs.