Yet another comedic episode of My Perfect Wedding aired last night and to our delight it honestly wasn't as bad as the previous episodes.  This week, the Mbonane couple showed us how ghetto-fabulous weddings are celebrated with spinning BMW gusheshe's, "Paris" suits and a kiss that made all South Africans cringe with disgust.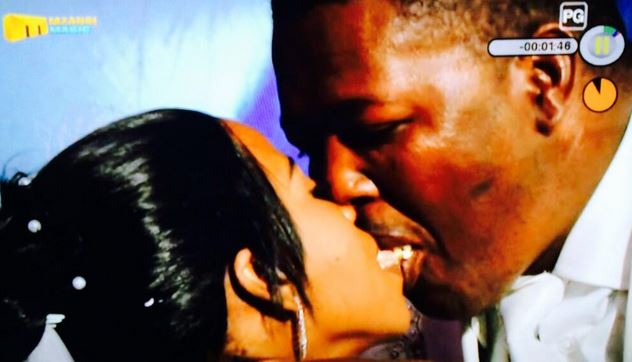 Some of our favourite moments included when the groom admitted that he dated seven girls, including his bride-to-be, all at the same time. How on earth did that work out?
However, it was the painted toes that showed how ruthless Twitter can be, especially when someone compared the brides toe to an elephant's foot. Ouch! now that wasn't nice.  We wonder if these couples monitor Twitter when their episode airs

We also feel for the presenter, Pumeza who hopped into that BMW gusheshe as a light skinned girl and came out looking as white as snow. Shame, the girl was so pale we thought she was going to vomit right infront of  the camera.  Speaking of white, how can the groom blatantly lie that his all-white suit was tailor-made in Paris yet had a tag written "Ekasi"?
Honestly though this weeks episode wasn't bad at all. Except for a few glitches here and there the wedding was beautiful, even with all its BMW gusheshes and over the top decor.