Botswana
native Angela Atlang is the new face that will be joining
Muvhango
starting from today, 16 August.
Read More:
Thuli Phongolo Reacts To Dating Rumours
Entertainment commentator
Phil Mphela
announced the news. He said,
"The Botswana-born actress will play Itseng Motsamai, James Motsamai's sister — a seductive but hard and gritty woman. The 26-year-old will make her debut in the show today"
Ategang thanked
Phil
for letting the world know. She said,
"@PhilMphela
Thank you so much for this! Yes it is true beautiful people, I'm the new girl on the block. Please welcome me into your homes and allow me to entertain you the best way I know how to. See you tonight on @MuvhangoSA"
Muvhango
confirmed the news in a
press release
. The soapie said,
"The Botswana-born actress plays Itseng Motsamai, James Motsamai's estranged sister, a beautiful, seductive but hard and gritty woman who piles her trade as a strip dancer. Imagine James' shock and surprise at the discovery. The 26-year-old makes her debut in the show today"

Angela has welcomed the challenge of playing this complex character as she says it will help her development and journey in the performance arts space"


Angela is nervous as joining the soapie,
"I am excited to work with the incredibly creative and generous cast and crew. It's all been beyond anything I could have imagined. The love is real"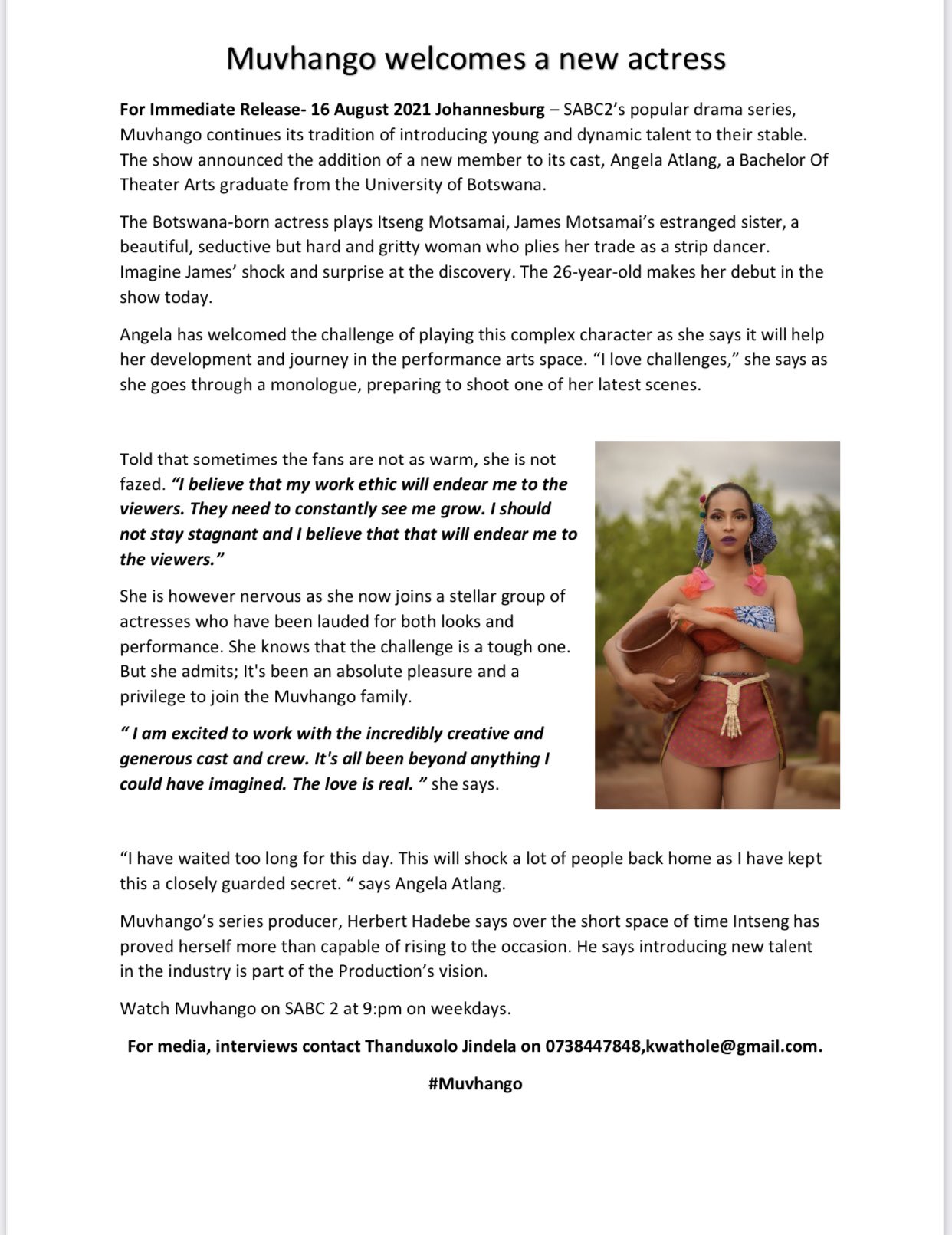 South Africans are however wondering when the auditions for the character were, others are applauding the show for always pulling through with the most stunning and gorgeous woman in the history of television and we have to admit. It is true, they always bring it.
These were some of the reactions following the news:
"She's beautiful yo...I'm gonna start watching Muvhango again"
"Muhvhango surely knows how to pick them yeses"
"21:00 is a deal neh… I will catch up the Queen later"
"She's beautiful"
Muvhango has been filled with a lot of drama and it would be a lie if we say we aren't liking it. The soapie has been giving us a lot of educational content. One notable storyline is the teenage girls who are friends but are pulling each other at opposing directions. The other one was pregnant not so long ago with the Azwindini's grandchild.
As expected, the parents were not for it. They moved mountains to understand whether these kids understand exactly what they have gotten themselves into.
It seems she had a miscarriage because of stress and we thought she was a good child, like morals intact and all that. We could not have been more wronger (is that even a word). Sis has become a bad influence to her friend whose parents are very strict.
The friend is a good child and always wants to do good to make sure her parents see that. Last week, this bad friend forced her to host a house party because the parents are not at home. Bad move. The cops came and they reported the matter to her parents. Baby girl got the whipping of her life. We hope she has learnt her lesson.
Watch Muvhango weekdays at 21:00 on SABC2.
Read Next:
Zola 7 Warns Of Bogus Foundation
Main Image Credit: Twitter/@PhilMphela