As such, the two leads have been on the promotional trail in an effort to promote the new season so there just might be a fourth season. A feat which would continue
the record of the series
being the longest running South African original Netflix series as
How To Ruin Christmas
follows just behind as its upcoming season will also mark the third season of the series which saw the exit of its lead and late thespian Busi Lurayi.
As Blood & Water is premised on the sisterhood between Puleng and Khosi as they investigate the details on how Khosi was kidnapped and adopted by what she initially believed to be her blood family. An interesting fact is that Ama and Khosi are actually best friends in real life, and the two let us into their friendship as they appeared on the latest episode of the hit YouTube series #DefiningFriendship.
Blood & Water's Ama Qamata and Khosi Ngema on #DefiningFriendship
While we might have known that Ama Qamata and Khosi Ngema were close due to working together on Blood & Water. Their appearance on #DefiningFriendship affirmed that the two are actually friends, best friends in real life.
Detailing how they first met, the two explain that they met during the first official read-through for the Netflix original series. This is as Ama explains, "I remember she walked in and I thought she was gorgeous, this beautiful girl, and she just had this calm energy about her."
Khosi describing her best friend explained her first impression by explaining that, "I thought she was beautiful, uhm super confident and really inviting. I mean, she literally invited me to sit next to her."
But probably the sweetest and "most best friend" moment of the entire interview was when Qamata revealed her own jealousy over the fact that Khosi has other friends that she is close to. It all started when Ama was asked what she finds the most irritating trait about her Khosi.
Initially, she started by explaining how Ngema, who clearly is in her chakra-hun era, was said to go on social media sabbaticals where no one can get a hold of her. But in explaining this, Ama then blurted out, "And she has other friends!." Adding that, "I hate that, and you (speaking about Khosi) like, "my bestie," and I'm right here. I don't get it. Literally, and I call her out all the time. Like, who are those people- are they on #Defining with you?"
A question Khosi could only respond to with a no. The entire 11 minutes plus the outro is comical look into the friendship that defines the success of the hit teen-drama which has made both Ama Qamata and Khosi Ngema internationally recognised actors, besides Ama already having garnered national acclaim through her role as
Buhle on Gomora
before her
formal and definite exit earlier this year
.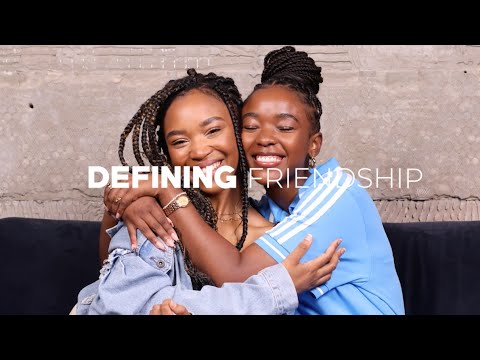 Image credit: Instagram