Will we ever know the story behind Pearl Thusi's 'engagement' ring?
It doesn't seem so, at this point, at least. The radio and television host got a lot of people wondering after sharing a picture of what looked like an engagement ring on her Instagram page about a week ago. There was a lot of speculation around who the lucky man could be, and some went with Robert Marawa, who's been rumoured to be in a relationship with Pearl. 
On Saturday morning, Phat Joe congratulated his co-host on their Metro FM breakfast show. He said: "A long time ago I speculated on the relationship with Pearl Thusi and Robert Marawa. And she's been in denial, denying it, sort of like how AKA was denying DJ Zinhle for all this time, right. I'm sick of this, I'm not gonna wait for Robert to send a cow to Pearl's home before we accept and acknowledge the relationship."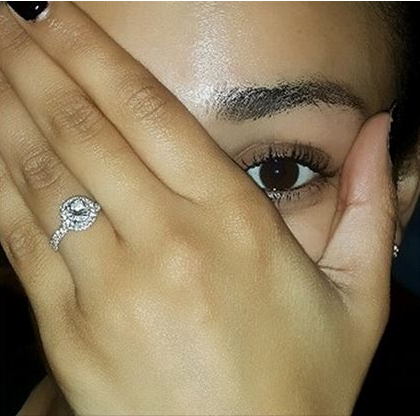 He added: "...I want us to say Pearl, congratulations. I think that the union of two people is always something to be celebrated, nothing to be shied away from. You don't need to keep in the dark... We look forward to a little one."
However, it seems like Pearl is having none of these Robert rumours. She said: "Can you try and call Robert 'cause I'm so tired of denying this thing..."
When Gayton McKenzie mentioned that Pearl is in love, Pearl screamed: "But it's not Robert, it's not him... It's not Robert. I never said it was Robert." Gayton added: "I just know that you are happy." Pearl replied: "Yes I am happy I never denied that."
When asked why she deleted the picture of the ring on Instagram, the Live Amp presenter explained: "Because I felt it was causing unnecessary drama."
Unfortunately we didn't get to hear the story about Pearl's ring as Joe and the team refused to let her explain. 
So, is Pearl engaged? And, is Robert the man in her life? Well, your guess is still as good as ours. But something tells us that Phat Joe knows a lot about this story. 
Image credit: Instagram