South African sports journalist, television, radio personality and motivational speaker
Robert Marawa
, celebrated his birthday recently.
As he blows out candles on his cake, let's recollect how Robert Marawa made news this year.

Robert Marawa on Senzo Meyiwa's murder suspects


Renowned sportscaster Robert Marawa reflects on the former Bafana captain Senzo Meyiwa's illustrious career and on what the arrest of the five suspects means to the sporting fraternity.


In another post on the same topic, Robert Marawa on Twitter, came in support of Ian Wright to say:


"Racism is like a chronic disease, there's never a cure for it but I'm still hopeful for a miraculous vaccine to administer treatment to racists 🙆‍♀️mass inoculation will be required to achieve the herd community of civil human beings."

Robert Marawa and Pearl Thusi


On her relationship with her ex, Robert Marawa, Pearl Thusi had this to say:


"Robert and I had a great relationship. Things didn't work for reasons we'd rather not talk about. That wasn't our intentions but that's what happened. You need to know when to leave situations no matter how much you want to stay. When something is not good for you don't die in it, learn from it and move on."


When they denied that they were in a relationship


Though, earlier in February, Pearl Thusi and Robert Marawa were spotted being affectionate towards each other at the Metro FM Awards, Pearl Thusi has denied dating Robert Marawa.


The television and radio host, who is rumored to be in a relationship with the sports presenter Robert Marawa, she's not dating anyone at the moment, she insists.


When on Twitter, Robert Marawa was pulled up for being an irresponsible father

Zoe Mthiyane, who has a son with sports presenter Robert Marawa, accused Robert of neglecting his responsibility as a father. Zoe's open letter to Robert Marawa was published on Facebook recently.


An excerpt from the letter read:


"I hereby declare that you have used the perception of your public figure personality and power to relinquish your responsibility to your only son, believing that my son and I will remain forever your victims, while you have been his absent biological father ...by your own choice."


Robert Marawa's football heydays


On Twitter, Robert Marawa was reminded of his football playing days. A throwback photo along with the tweet has Robert reminiscing.


Does Robert Marawa have a sporting chance at hosting Anele and the Club?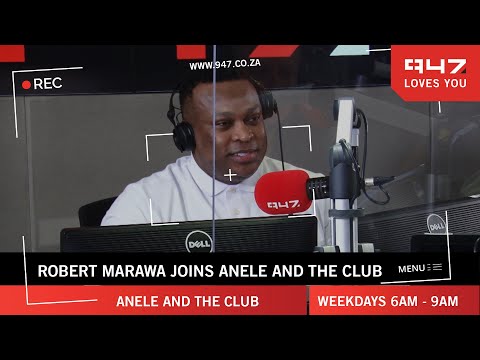 Robert Marawa was at the 947 studio and interviewed the Queen of Radio, @Anele.