Mmm, it looks like social media may have confirmed the AKA and Bonang relationship?
Five days ago, Bonang posted a picture on her Instagram of a goodie bag from Balmain x H&M ahead of the store's big Sandton launch.
Queen B caption the picture: "Thank you for the goodies H&M South Africa... Bae and I are OBSESSED!! Can't wait!!"
Watch: ZAlebs attends H&M x Balmain launch
Mmm, so bae was also excited?  Which means bae would also be attending the launch, right? Several A-listers were sent goodie bags that included outfits they would wear to the opening.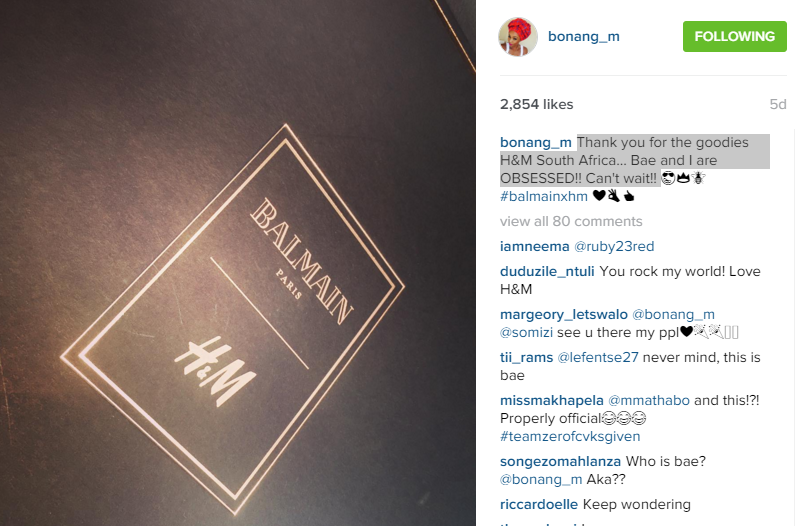 Fast forward to a few days later when AKA posted a picture of a red Balmain jacket, with the caption: "My outfit on some this ain't out yet...BALMAIN X H&M...Sponsored by Bae."
Mmm, sponsored by bae? Do you see where we are going with this?
After the post raised a few eyebrows, the rapper quickly deleted it!
Just like when news about their alleged affair broke, courtesy of a blog post by AKA's baby mama DJ Zinhle, fans slammed Bonang and AKA, calling them "disrespectful" and "disgusting".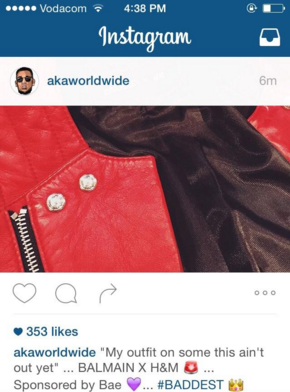 Read: Are AKA and Bonang still cool?
Were Bonang and AKA set to confirm their relationship status in grand style? It doesn't get grander than "his and hers" Balmain outfits at the biggest fashion launch of the year!
Instead Bonang attended with Idols SA judge, Somizi. And he definitely is not bae! 
Added to the mix, was the fact that Zinhle confirmed on social media that she would be DJing at the event. 
Imagine, AKA and Bonang rocking up at the event, and DJ Zinhle having to watch them flaunt their romance! 
NEWS: AKA Takes Shots At Baby Mama Zinhle
Despite denials that they were ever in a relationship, we are beginning to think where there is smoke there is fire!
And to think Bonang threatened to sue DJ Zinhle and demanded an apology! 
While we out here playing detectives, Bonang is having a good laugh about all the speculation. 
....the word 'bae' got ya'll tangled. 😂😂😂

— Bonang B* Matheba (@bonang_m) November 5, 2015
Read: SA's A-listers flock to H&M x Balmain launch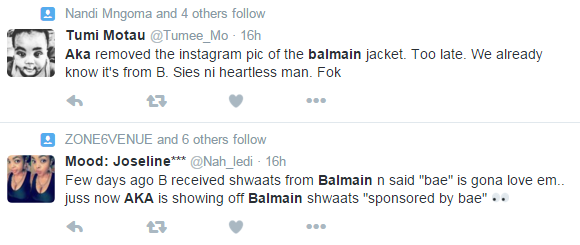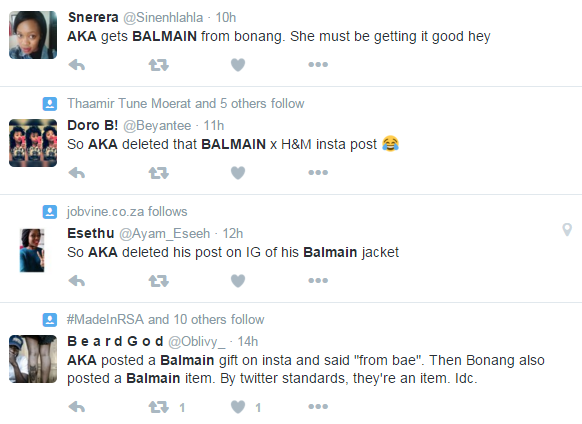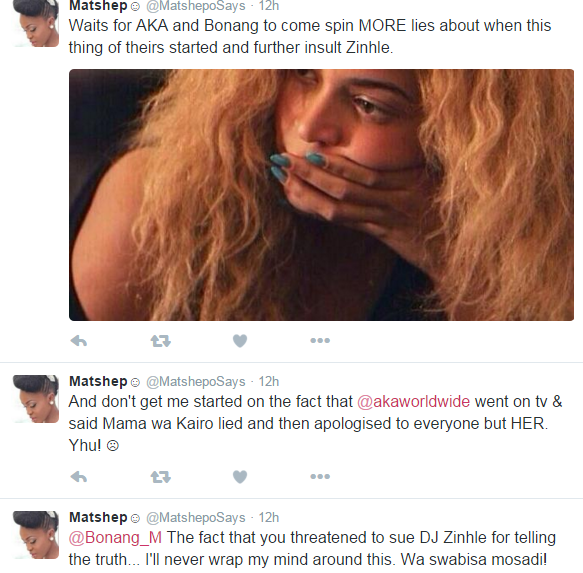 Read: AKA Publicly Apologises To Zinhle's Family
Image credit: Instagram