DJ Zinhle
is certainly not catching a break from social media trolls any time soon. This comes after her Instagram post was edited to make her seem like she was talking badly about her husband, Morda.
Read more:
DJ Zinhle Fetches Asante From Hospital Ahead "Mass Country" Release
Now that the dust is finally settling down following the toughest two weeks where
DJ Zinhle
and family had to bury
'Kiernan 'AKA' Forbes
. As it appears that things are finally getting back to normal, DJ Zinhle is being trolled and painted as a horrible person towards her husband,
Morda
.
"Kiernan wahamba wangishiya nalesbotho somfana"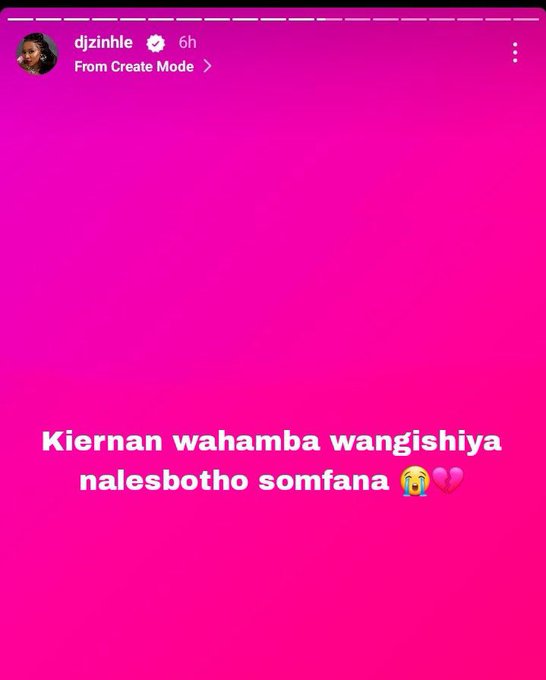 A screenshot of what seems to be
DJ Zinhle
's Instagram post with an unsavory caption is currently making rounds on social media to make DJ Zinhle look bad. Having gone through
DJ Zinhle
's Instagram stories, there has never been a post of this nature nor about her
husband, Morda
.
DJ Zinhle
and
Morda
's relationship has proven to be an issue to come of the late AKA's fan. Even though DJ Zinhle and AKA parted ways amicably, the pair is also co-parenting in the best way they knew how. And the relationship between AKA and Morda was one for the books.
"We all know DJ Zinhle loves and respects Bongz. A wise and knowledgeable person would know that THIS PIC IS EDITED. Stop abusing celebrities!" wrote Nthabiseng Kgosana
"No guys, someone is trying to sabotage Dj Zinhle. Ngeke!!! Did she really say this?" wrote Mashesha
What has shocked scores of tweeps is how a number of people have proceeded to believe that
DJ Zinhle
would write horribly about Morda. Hence more tweeps have joined hands collectively to rubbish the claims made against DJ Zinhle.
"So people actually believed a photoshoped Instagram post...Wow ..So people actually are hell bent on destroying DJ Zinhle at any cost...Clout is witchcraft I tell you..Even your favourite Influencers take joy in tarnishing people's images....Nikhohlakele msunuyenu." wrote Menziwokuhle Mafu
It appears certain AKA's stans as some of DJ Zinhle's trolls continues to give her grief over nothing. The last three weeks have been nothing but very challenging for the Forbes and their extended families, including
DJ Zinhle
.
Read more:
"What Do I Do When She Misses And Needs You?- DJ Zinhle Hearbreaking Letter To AKA

Image Credit: ANMG