It has come to our attention that throughout these couple of months our ZAlebrity Crush column has unfairly neglected the male species.  Week after week we've brought you nothing but the most gorgeous male hunks the South African entertainment industry has to offer, which can be somewhat irritating for some of you males.
However, this week we can confidently re-assure you that this ZAlebrity Crush is bound to make all you men jitter with excitement.  Ladies and Gentlemen we bring to you our ZAlebrity Crush of the week the beautiful "Mrs Black Coffee" herself Mbali Mlotshwa.
Mbali, first off we were quite surprized that you actually puckered up the courage to go bungee jumping these past few weeks, weren't you terrified?
I've always wanted to do bungee jumping but at the same time I would always find an excuse not too and I was actually telling my friend that our next bungee jump should be at the Moses Mabhida Stadium.  I absolutely loved every second of it, you know I was so excited that when they were counting me down for the jump I didn't even wait for them to reach number one by the time they got to three I jumped because I was so scared that I was going to actually chicken out by the time they reached number one.
The characters you've played in your acting career have always been about that young ambitious lady with the girl next door charisma but since you've been on Rockville that character has gone through a bit of a metamorphosis especially now that your character 'Lindi' takes upon the role of an escort.  Where you ever a bit sceptical of taking upon that character considering that you're now a mother and wife?
You know I've secretly always wanted to play the role of a female escort; it's always been a little secret and pleasure of mine.  But the main reason why I also decided to take upon this role is because I had a friend who was an escort and that was just my biggest reason for playing 'uLindi' I also felt that we often look at people's situations in such a one dimensional way whereas there's always a fourth, fifth and even sixth dimension to a person's situation and to even a story.  So I thoroughly enjoy playing 'Lindi' on Rockville and when the opportunity came along my husband and I spoke in depth about it and being the man he is, A MAN, he was pretty comfortable with it.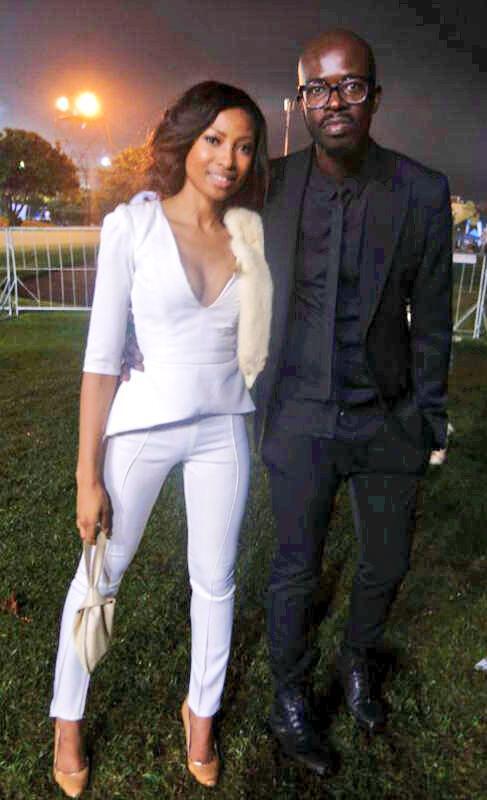 In these few years we've seen the Mbali brand transition from that sweet young lady to a bolder, strong, grown woman who knows where she's going.  Would you say this growth has been contributed to your rites of passage into mother-hood?
I think that has a lot to do with it when I started my career I was still in high school so I was pretty wide eyed about everything, I was just a kid who was taking in every advice I could get from veterans in the industry.  So marriage, becoming a mom and just having a family of my own has giving me that sense of owning my career and owning my life and that's where I'm heading to I'm starting to be comfortable in my own skin. 
We saw an article that had you a little teary eyed when you revealed that your son had given you his first gift to you, could you let us in on what that gift was?
Yes! It was actually a Mother's Day gift; they had done a couple of things in nursery school and it was like a little cute heart shaped vas with his hand printed on it and a few scribbles he wrote and that scribble means a lot to me.
It seems like every time you appear in public you look even more gorgeous than before, you're glowing always in good shape.  Now we're not going to ask you what's your secrete instead we want to know HOW DO YOU DO IT?
It's all genetics! All of it! Believe it or not but I eat like a pig! I often hear people say don't eat this at this time of the night but I'm like the complete opposite.  I constantly have food or some sort of snack on the side of my bed and I'll wake up at one in the morning because I'm hungry.  So I really have no secrets it's just genetics, I'm lucky; my mother's tiny as well so I thank her for the genes.
How's your directing career coming a long?
My directing career is picking up very well, I've just finished directing a music video for my husband called 'Buya' featuring Toshi which will be released pretty soon I'm very excited about that because I believe it's one of my best work so far and I'm just so excited for people to finally see it.  For me it easily meets up to international standards of what a music video should look like, the video is set to come out in about two to three weeks and I hope everyone enjoys it as much as my husband and I have.