The funeral of
Amapiano star Killer Kau
is currently underway. The funeral is being streamed live on YouTube.
Read More:
Mpura, Killer Kau And Khaya Hadebe Have Passsed On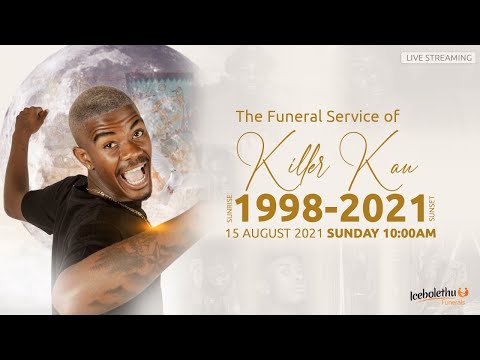 Killer Kau
passed away together with five other people who died in a car accident a few days ago.
His record label Soweto Music & Entertainment Academy also issued an official statement confirming his passing.
The statement read: "
On Monday the 9th of August 2021, the families of the deceased received a call from Marikana Police Station about a fatal accident that had taken place on Marikana road (N4 Northwest). It is with great sadness that we announce the passing of 3 members affiliated with the record label, SMEA, an inspiring record label from Soweto. The trio was traveling to a gig in Rustenburg with other artists in the car.

Involved in this fatality were hitmaker and Amapiano co-pioneer Killer Kau. Thando Tot was his DJ, TD who was SMEA's official road manager, Mpura Mpura Artist, The Voice (Mpura's DJ), and 1 other female. We ask that you allow the families of the late youngsters to be given space to grieve their loss whilst we try to make funeral arrangements. More details pertaining to their funerals will be issued soon. We thank you all for the support."
Fans and friends have also expressed their grief on social media platforms.
Amapiano vocalist Lady Du left many emotional with her video a few days ago. In the video, the singer says: "Guys please understand that I am not a celebrity when it comes to losing people that I care about. I have never been and felt so weak in my life. Mpura and Killer Kau touched me in a way that nobody else has ever touched me and I don't expect other people to understand that.
"So when we lose people stop calling us and asking us what's going on, stop asking what happened and just pray, learn to pray. Sibancane ukuth singashona kanje (we are too young to be dying like this," she added.
"You can't even cry in peace. You have people calling you and asking what's going on. No! Don't do that. Pray for people. Artists are broken. We are broken as a nation. We are not united and it is days like this that we realize that life is too short. And we need to be there for one another. We need to stay strong in everything that we do and we need to pray for one another because we risk our lives to get to events to make people happy. Today we lost our brothers."
Read Next:
Pearl Modiadie Is Mourning


Image Cred: YouTube