It must be the last days indeed as tweeps are more convinced that
social media darling
and
Influencer
Mihlali Ndamase
has reached her 'flop era' in her career. Ndamase's latest social media stunts has left a bitter taste in people's mouths.
Read more:
Saint Puts Mihlali In Her Place
The day nobody has saw coming is finally here where everyone's favorite
YouTuber
and
social media sensation
Mihlali Ndamase
crumbling before peoples eyes. Tweeps are certainly not jumping for joy at her latest social media stunts that has gotten people judging her from every angle.
Ndamase
took to Instagram to share a Sunday World article written about her, accusing her of meddling into someone's marriage.
"Front page my angels, go get yourself a copy" wrote Mihlali Ndamase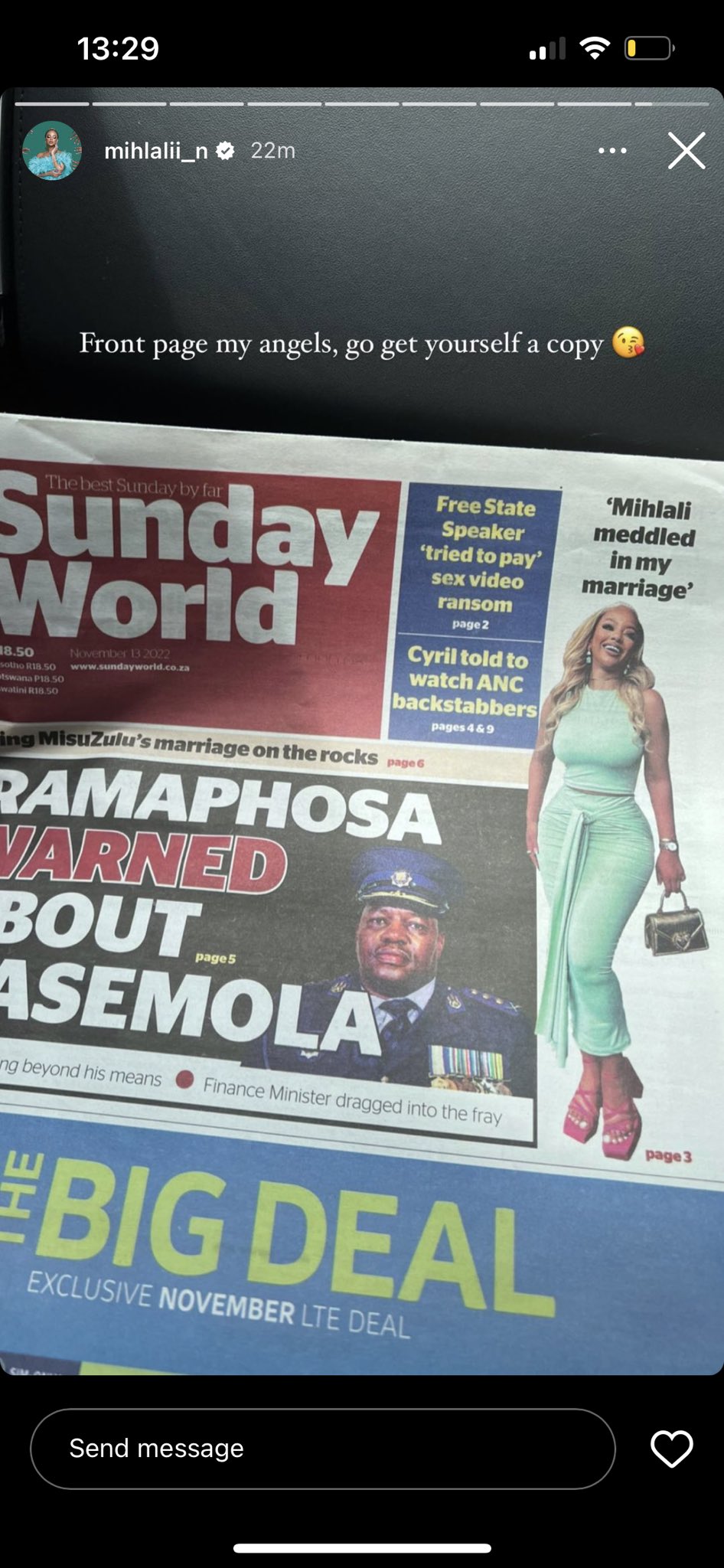 What has strike a nerve is how
Ndamase
has glorified the publications article about her, which has led to tweeps calling her a clout demon. Tweeps have since called
Ndamase
out of her name and has made them believe the worse about her.
"After Mihlali posted a copy of that newspaper I am convinced that she is the one perpetuating the negative publicity for trends. She is shameless and I hope Musa will not bring her name up in his videos bcs it's now clear that she is not a victim of "cyberbulling" as she puts it" wrote MaNdabezitha_
Ndamase
's questionable stunts have made some tweeps even more convinced that she was the one who was feeding gossip blogger Musa Khawula to report negatively about her. when Khawula was suspended on Twitter, tweeps recall there was less controversy around
Ndamase
.
Hence this is the reason why a scores of tweeps are made to believe that
Ndamase
is crying for attention that she is no longer getting. Her glorifying the article written about her has tweeps calling her an attention seeker more than anything.
"I love Mihlali but she's becoming a clout demon" wrote Hopebird
"At first I like Mihlali's don't care attitude but now it's getting cringe and weird. She's doing too much and for what" wrote Ms Geebaby
"mihlali is an attention seeking loser. so boring" wrote Hlubikazii
"Yoh mihlali every chance she gets ufuna uku trenda. I remember seeing her stories on instagram she texted take off saying chommie I'm sad . Yena she's beautiful but trying so hard to stay relevant in this industry . I feel like she's obsessed with having the spot light" wrote Michelle Nkambule
Read more:
Duma Collectives Says Goodbye To Its Talent Management Division

Image credit: ANMG