Celebrity chef Siba Mtongana has some tips on how you can prepare a light and easy Christmas lunch.
The star of the Food Network's hit show, Siba's Table, recently launched her first cookbook, My Table.
She told ZAlebs releasing a book is something she has always wanted to do, but the time was never right – until now!
"It was last year December when I received a message from a mother of a 9-year-old in the US saying that all her daughter wanted for Christmas was my cookbook and she has looked everywhere! I decided then that I had to immense myself in this exiting venture as the time was right - and I made the time! It's been an amazing journey and adventure and I've learnt do much in the process," she said.
Read: Baby girl on the way for Siba Mtongana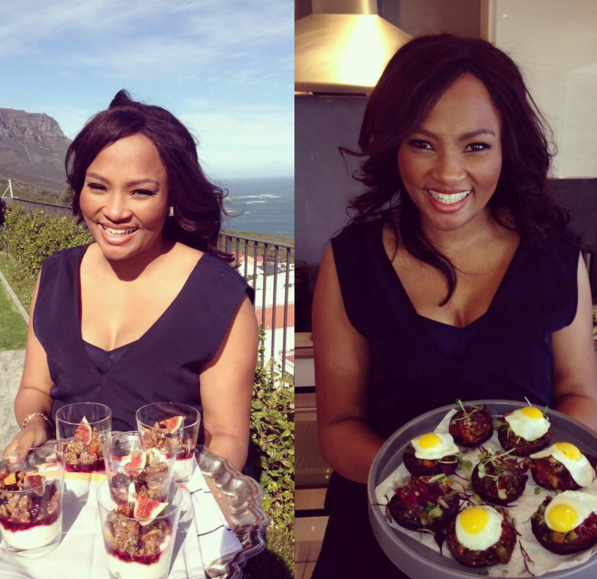 Preparing Christmas lunch can get a bit hectic, but Siba has a few tips on how to make it as stress free as possible.
"Plan in advance and ask family members to help with making at least one recipe each. For instance, draw up the menu and do the mains and dessert, and ask others to do the starter, salads and sides. That takes huge pressure off the one person," she suggested.
If you are trying to avoid the festive season bulge, portion control is key. 
"The thing to keep in mind is portion control of your plate when dishing. Often our eyes are bigger than what our stomachs can handle so don't be deceived by dishing way too much than you can eat," said Siba. 
Read: Minnie Dlamini is quite the foodie
Siba's cookbook has plenty of healthy and light recipes, like her beet and goats cheese salad and her seared tuna and crushed wheat salad.
"For dessert my labneh, which is a yoghurt cheese, with fruit is perfect for a light dessert and so are my coconut macaroons, which are gluten free.
"I love all [my recipes] as they were all made and created with love. I love the salads and the fish options as they are light and perfect for everyday summer meals. Chilled freshly squeezed homemade juices are a perfect companion too."
No Christmas lunch is complete without trifle! Siba's Sunday Trifle is a perfect treat for your family.
Siba's Sunday Trifle
Ingredients
1L readymade custard
1 large Swiss roll, cut into thin slices
250g fresh whole raspberries
250g fresh strawberries, quartered
Fresh mint leaves, to garnish
1L strawberry yoghurt
500g cream cheese
Rind of 1 lemon, grated
400g mixed frozen berries
120g caster sugar
4 tbsp water
Method
1. To make the berry sauce, place the frozen berries in a medium sized saucepan and heat for a few minutes until they soften, crushing them with the fork or spoon.
2. Add the grated lemon rind, sugar and water and cook for a further 5 minutes its thickened and reduced.
3. Set aside and cool.
4. To assemble, first whisk the cream cheese until soft and smooth in a mixing dish.
5. Add the fruit yoghurt a little at a time, beating well after each addition to prevent any lumps from forming. Continue until all the yoghurt is mixed in with the cream cheese.
6. In a deep trifle dish start with a layer of the Swiss roll slices.
7. Top with custard. Next add the yoghurt and cream cheese mix and drizzle the berry sauce around the edge, followed by a layer of sliced strawberries and raspberries.
8. Next repeat the layering with swiss roll, custard, the yoghurt and cream cheese mix then berry sauce and fresh mixed berries.
9. Repeat the layering for the last time ending with the strawberries and finally a drizzle of the berries sauce.
10. Garnish with fresh mint. Serve immediately or cover with cling film and keep in fridge until needed.
Click here to watch Siba's video on how to make the trifle. 
Image credit: Facebook/Siba Mtongana