He first caught our attention with his astounding performance as the character of "Cassius" on the SABC 1 series, A Place Called Home. Then he proved to the entertainment industry that he had more to offer when he started showcasing his comedic skills on stage.
Most SA tv viewers  know him from his brief role on Generations as Mam' Ruby's young love interest "Xolani Mthembu" as well as for his role as "Phakamani Makhoba" Mzansi Magic's Saints and Sinners. We caught up with the all-round entertainer, Siya Radebe to also hear about his upcoming Oude Meester tour with actor Idris Elba.
Siya, welcome to ZAlebs. There's one question we're itching to ask:
Like your character "Xolani Mthembu" on Generations, have you ever been in a relationship with a woman much older than you?
No I've never.  I wouldn't go for an older woman because it's just not natural for me, maybe for other people but not for me. I would like to be able to look at my woman and go "That's MY BABY… that's MY BABY." I don't want to be her baby. I've actually never even dated an older woman, my girl and I we're the same age and I love it like that because she's such a smart women and she challenges me.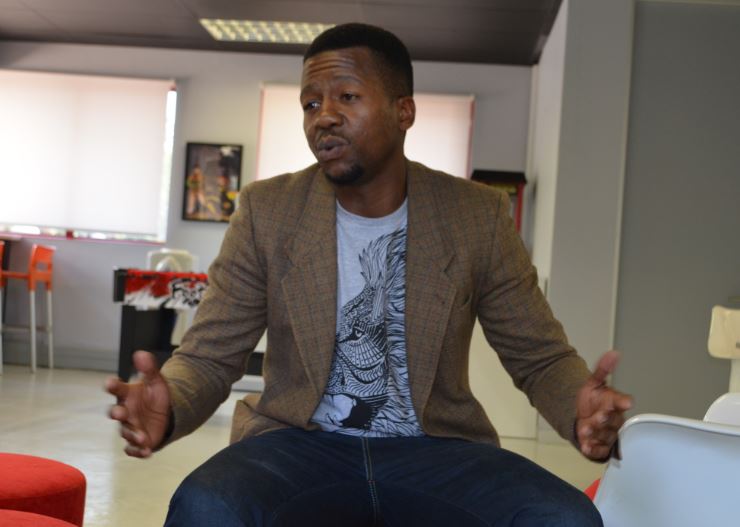 Still on the topic of "baby" in your family you're the last born.  What was your parent's opinion on doing an advert and campaign associated with an alcoholic brand?
My parents are very simple people; I think they're just happy that I'm not out in the streets being mischievous. That's the one thing that my father is happy about, I'm taking care of myself and I've been in Johannesburg for about eleven years now and I'm still doing ok. I remember my father not being too happy about my move to the city of gold initially.
Your dad is quite a special guy, he even provided you with money to go get yourself a Code-14 driver's license?
Yeah man! My dad is an amazing man. By the way I failed that test, plus I didn't like driving a truck. Basically that was just his way of making sure that I can get a job and a better life for myself. The thing is my dad and my late brother are big men and I was (and still am) fairly thin, so the things they could do physically I couldn't. So when my dad would do hard labour work I'd be there by his side just telling jokes. I used to feel bad that I was fairly a physically small person but now I'm ok with it.
Speaking about small, you're going on a tour with a guy whose brand isn't necessarily small. Idris Elba. Are you concerned about him overshadowing you on this Oude Meester tour both of you will be embarking on?
Instead of writing his words we thought you might've like to hear the answer from the horses mouth himself. This is what Siyabonga Radebe had to say.
Were you surprised at the amount of success Saints and Sinners has garnered in only its 1st season?
I definitely was and still am. I honestly didn't see it coming especially considering how my thoughts were with regards to how the story line was going to be executed. These stories are our everyday type of events and the last thing my cast members and I wanted to do was do an injustice to the Saints and Sinners story line but according to the country we're actually doing a pretty good job.
Does Siya rehearse before the cameras switch on?
I don't act when the cameras not on. I think about it, I think what this person is going through. Writers write a series of emotions and what I have to do is play them and make them real. If I play these emotions about four or five times, by the time I have to do it for camera I'm bored. But that's my own technique. People who work with me will let you know that I don't stop talking on set. One minute I'm dishing out jokes, the other minute I'm rapping but as soon as the director says "action" I take a moment, internalise my character then I act. That way it's new for me and it's new for the director.