Media personality Somizi Mhlongo
will soon be back on the radio. He has confirmed that he will be back on Metro FM this coming Monday.
Read More:
Somizi Granted Time Off
Somizi shared the news on his IG stories responding to a fan.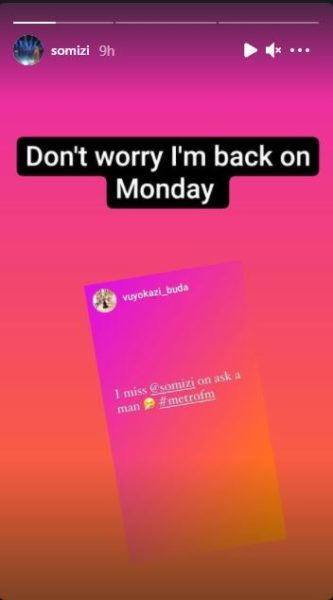 The SABC confirmed earlier this month that
Somizi was granted time off
as he had requested.
The Corporation tweeted:
"The SABC can confirm that @METROFMSA
management met with Mr. Somizi Mhlongo and he has requested to take some time off from work. Management has granted Mr. Mhlongo permission to do so."


SABC also mentioned that the public broadcaster does not condone abuse and violence.
"The SABC has also noted the comments on social media about Mr. Mhlongo and we would like to point out that the public service broadcaster does not condone any acts of abuse and violence,"
tweeted the SABC.
Mnet also previously released a statement announcing that the channel has given Somizi some time off his Idols SA judge duties to deal with his issues.
"We have reached a mutual agreement that Mr. Mhlongo will take some time off to deal with his personal circumstances until this matter has been resolved,"
the statement read.
Somizi and his estranged husband Mohale Motaung are currently in the process to dissolve their marriage. There have also been Allegations that Somizi used to abuse Mohale during their relationship. Mohale spilled the beans on a recently leaked audio, Read More:
Mzansi Shocked By The Allegations Made Against Somizi
However, Somizi has denied the allegations, he said his estranged husband is trying to harm his reputation.
"Never in my wildest dreams did I think that one day I would have to defend my honor as a result of someone I have loved so deeply and so genuinely deliberately harming a reputation I've worked so hard to build. For the most parts of my life, I've kept my relationships out of the public eye until my one and only marriage which you witnessed on television and other social media

"It took me this long to arrive at a stage where I could make the conscious decision to share my life traditionally and lawfully with someone and that should explain the level of depth of my love for that person and commitment to that person. It is incredibly painful that what I thought would be a beautiful new normal for the rest of my life with the love of my life, is no longer what will happen,"
he said in a statement.
Read Next:
Thembsie Matu Is Finally Out Of The Hospital
Image Cred: Instagram