Yesterday marked thirteen years since the death of R&B singer Aaliyah. Seeing that the Beyonce Awards  MTV VMA's had taken all of the shine yesterday we decided that we'd honour Aaliyah's memory today by taking a look at how much of a great influence she was not only to music, but to other musicians too.
With her trademark hair, angelic voice and tomboy style that had the likes of Ciara and 3LW trying to imitate her in their numerous music videos, one can't deny that Aaliyah played a vital role in R&B during the late 90's and early 00's.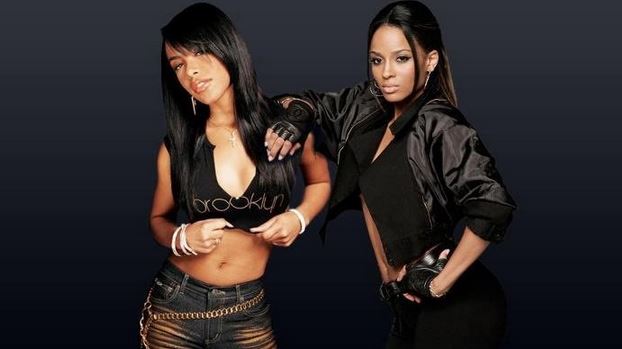 With her breathtaking beauty, it was no surprise when close friend and producer Timbaland confessed his love for Aaliyah during his E True Hollywood Story episode. We personally don't blame him though, which man or woman could fight their feelings after being around such a beautiful soul almost every day?
Timbaland is not the only man that fell under Aaliyah's spell. For years it was rumoured that Jay-Z had some romantic interest towards the One in A Million singer. Then there was Drake who has never shied away from his undying love for Aaliyah but we began thinking he was becoming more of a "stan" than a fan when he tattooed Aaliyah's face on his back. 
No artist made us as excited about the release of their new music video as Aaliyah did, simply because we knew she was going to bring her A-game when it came to the choreography. It would be unfair of us to choose one specific Aaliyah video from her impressive catalogue, but if we had to choose one hit that made us bow down to her dance creativity, it was the video for Are you that somebody.
If you grew up in the 90's and absolutely loved this video and song we're sure you can recall a time when you'd shift your parents coffee-table in the dining room just to make sure you had enough space to emulate every move Aaliyah was doing whenever the video came on. Unfortunately, back then there were no PVR's and if you didn't have a VHS you were screwed.
New R&B kid on the block – Sevyn wrote a letter for Aaliyah praising and thanking her for being a great inspiration to all aspiring singers like her as a kid.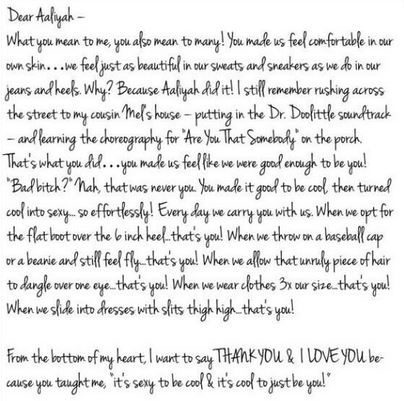 We still can't believe it's been thirteen years since her untimely death but if there's one thing we're sure of is that her music is timeless.