Last night, the Idols top 10 took to the stage at a new venue in Moreleta to perform for South Africa's votes. The theme was 'Cheese', which set the tone for the entire night as the Idols broke out the cheesiest songs in their repertoires, much to the delight of the crowd. The boys showcased their talent spectacularly as the contestants pulled out everything from upbeat pop songs to power ballads, with performances ranging from 'wow' to 'meh'.
The show kicked off with hot favourite Brenden Ledwaba, who performed the Hot Chocolate hit 'You Sexy Thing'. The upbeat classic is not only as cheesy as a Quattro Formaggi pizza, it is always a real crowd pleaser. Last night was no exception. Brenden is an entertainer through and through. This guy is possibly South Africa's answer to Elvis Presley – great voice, a fantastic performer, and just the right amount of cockiness to be appealing. His smooth vocals proved a great start to the show, with the performance really kicking off as he showcased his dance moves midway through the number, sending the crowd wild.
Benjamin Tainton's song choice of 'Everything I Do' by Bryan Adams was described as being right up his alley, but his vocals left something to be desired. His enjoyment of music is visible and maybe even endearing to some, but he has a slightly awkward on stage persona which can make him seem a bit wooden. If Benjamin has hopes of winning SA Idols, his stage presence is going to need some work.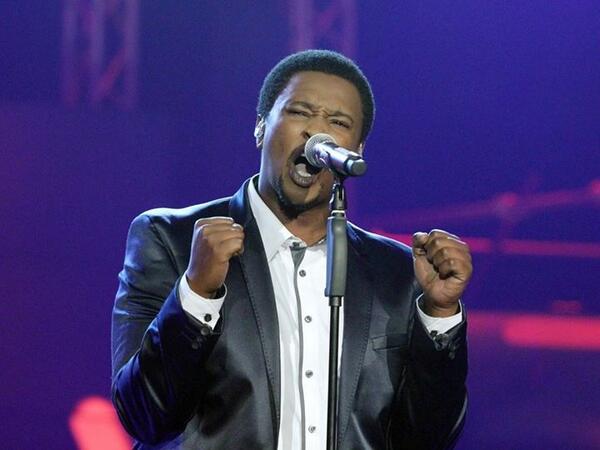 Musa Showing Off His 'Healing' Powers[Image Courtesy of Mnet]
Musa was another who impressed. The crowd had been chanting his name for some time and he arrived on stage to uproarious applause. His performance of Marvin Gaye's 'Sexual Healing' was fabulous from start to finish. His vocals were spot on, his attitude just right; and the crowd were loving it. By the end of the song, thousands of women were screaming his name as he stood by, looking slightly bewildered at the attention.
While the boys were the stars of the night, some of the girls turned in noteworthy performances too. Tumi is one to watch in future weeks, as her vocal potential is obvious to even the most tone deaf of listeners. Others to look out for include Sonke, who received a standing ovation; and Innocent, who's take on 'Lady in Red' earned high praise. These two might prove to be SA Idols' dark horses if they can keep the ball rolling. However, at this early stage, it is Brenden and Musa who have stood out as the ones to beat. Regardless, it is now in the hands of the public and as long as that remains the case, the Idols SA crown is still there for the taking.
By Sophie Baker