"Bare Bones" was the theme for the latest Bryan Adams tour to South Africa. The title couldn't be more accurate, as the entire band was ditched, portraying the essence of who Bryan Adams is. In Bryan's own words, this tour was about "bringing 30 years of music down to its core- acoustic guitar and voice." This wasn't always completely accurate however, as many songs featured the talented muso pianist 'Gary' on a stunning grand piano. The combination of the soulful piano playing, delicate acoustic guitar and custom voice, led many an audience member (including myself) to the verge of tears.
With over 12 studio albums and an array of number one hits, one can understand that choosing a set isn't always easy, with many fans potentially disappointed that their favourite song is left out. Bryan Adams decided that the performance would be a combination of his best known songs, along with songs that nobody had previously heard. With unrecorded songs going back to the 80's, Bryan Adams gave a taste of what he was going through at the time, emotions displayed through music; the ultimate quality of a songwriter.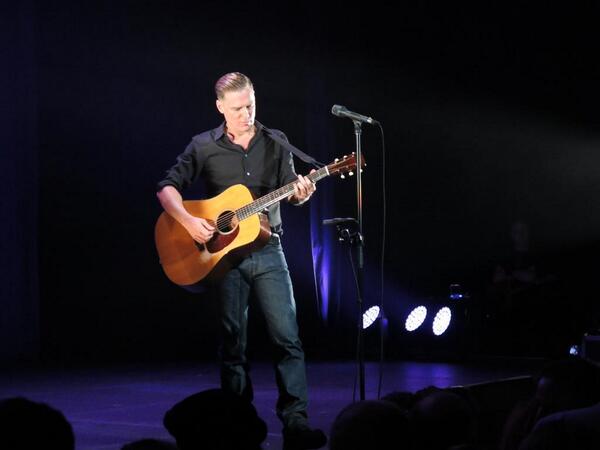 Instead of the conventional music concert where the artists simply get on stage, perform their set list of songs and leave, this concert was all about crowd interaction. Stories accompanied each song, giving a deeper glimpse into the life of Bryan Adams. It was discovered how it all started, including which songs took Bryan Adams out of the trashy clubs and into the "less trashy clubs." Comments such as that gave fans extra value for money, as a music concert was often turned into a comedy club. The personality of the Grammy Award winner is what made this concert particularly special.
The extent to which this was a 'spontaneous' performance was shown when Bryan and Gary discussed their array of songs, deliberating what was coming next. The performance was all about feeling the crowd and responding. In one instance, Bryan called two audience members from the back row of the theatre to occupy two empty seats in the front row; this undoubtedly made their nights. Selecting an audience member to dance to one of his songs further added to the entertainment. A marriage proposal was even witnessed. By the end of the night, an acoustic performance created more a party atmosphere, with the initially seated auditorium evolving into isle-dancing fans.
Big Concerts has succeeded yet again in bringing an artist of the highest quality to South Africa. A perfect venue for the occasion, the Big Top Arena at Carnival City, created a fitting atmosphere. This was no ordinary concert and fans were treated into a once-in-a-lifetime performance. No venue-rattling bass, no crazy drum solos, no gravity-defying guitar riffs; simply Bryan Adams in his most bare form- and trust me, this was enough.
(Image Credit: Twitter Image Gallery)