Media outlets can be a cruel and difficult beasts to digest, especially those who deal with entertainment news. In a world that is dominated by paparazzi snapping at you, false rumors, and interview requests, patience tends to be a rare virtue. Many celebrities tend to wear thin before eventually snapping (See our good friend, Kanye West, when he attacked a reporter!) Today it was the turn of AKA's patience reserves to run out and he did not hold back when they did. 
Just moments ago, the rapper posted an instagram image of a conversation between himself and a reporter from Sunday Sun who wanted to confirm confidential information that involved him and his alleged girlfriend DJ Zinhle.
AKA used the social media platform to show how inconsiderate and hungry for false news some publications can be.  He even took it as far as showing the reporter's numbers on instagram for all to see.  So before we spoil the entire story here's the instagram post for you.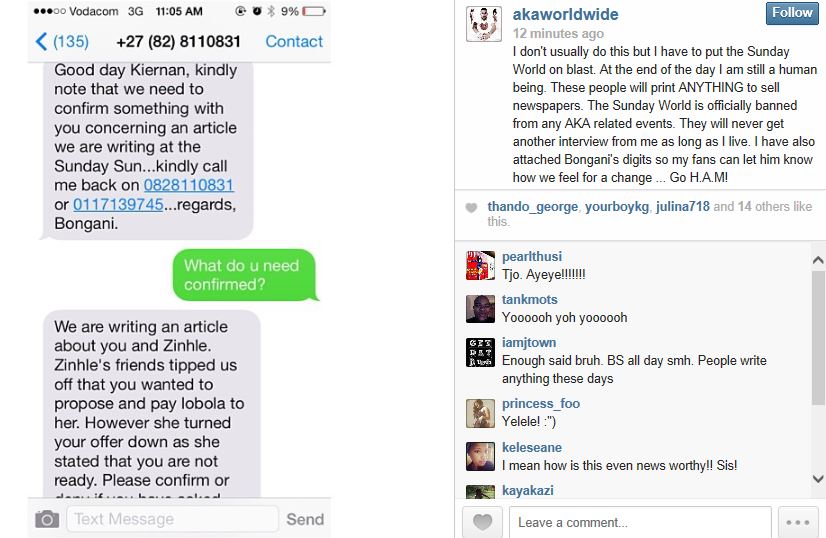 It seems as though AKA has sent a clear message to all gossip tabloids.   We feel sorry for this guy's inboxes and telephone calls,  AKA fans are going to have a field day with this one- and so, unfortunately, are his haters. 
Do you think AKA was justified in his tyrade against the Sunday Sun? Let us know in the comments below!