You might remember that, last week, we posted and reviewed Avril Lavigne's new music video for her single, Hello Kitty. It seems that we must have woken up drunk that morning because the rest of the modern world grossly disagrees with anything we had to say about that video. We called it fun, enjoyable, naughty. The rest of the world has labelled it "racist" and has accused Avril of some heavy "stereotyping". We're not sure we'd take it that far, but let's start investigating and defending some of the key criticisms of Hello Kitty.
The Lyrics
The lyrics are not the best, and we admit to not having taken a closer look to them at the time. Having pulled the Hello Kitty lyric sheet up we've been able to see why people are not-so-in-love with this song. They're quite poor, but then again when you have a song written by Nickelback frontman, Chad Kroeger, your expectations for lyrical quality should not be set too high. Regardless, are the lyrics in Hello Kitty worse than Justin Bieber's Baby or YG's My N****a? Of course not. Avril and Chad have not produced a Bohemian Rhapsody-esque lyrical masterpiece here, but it's far from the worst song in the world. 
The dancers/Avril the "copy cat"
Ah, here's where it gets interesting. Remember Gwen Stefani and her Harajuku girls? Apparently Avril has copied Gwen entirely in this new video, and while the comparisons are valid, we think its far from a "copying act". Many singers pick a symmetrical number of dancers to back them up; Avril chose four. The video takes place in Japan so it'd be a little weird if she chose Somalian backup dancers to accompany her to Japan. The girls, dressed up to parody characters found in typical Japanese pop culture, fitted with the theme of the rest of the music video. We see the similarities, but we wouldn't go as far as calling her a copy-cat. 
HELLO KITTY IS RACIST!
Erm, no, no it isn't. The KKK was racist. Racial crimes are racist. Insulting someone verbally, physically, emotionally with the intent to offend a person based on their skin color, is racist. This video is far from that. In fact, it was choreographed, shot and produced by Japanese choreographers, directors and film crews. The internet is a very sensitive place where people will find any reason to be offended (Remember when people said Robin Thicke's Blurred Lines was sexist?) and Hello Kitty is the next victim of the internet's wrath. 
If you think the video is racist, take a look at what JAPANESE PEOPLE are saying on Twitter about it: 
"Avril is inspired by "KYARY PAMYU PAMYU", isn't it? I don't understand why she is racist at all,"
"The thinking of "this song is discriminatory" generates real racial discrimination".
Avril herself took to the social network to respond to the allegations: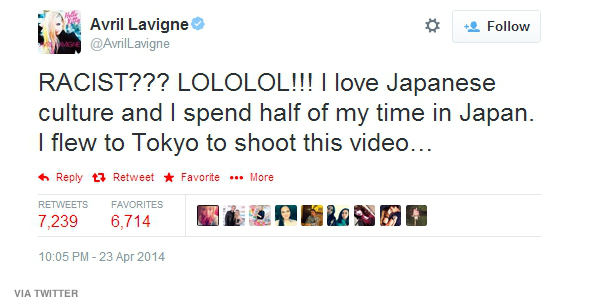 Yeaaaah. We can tolerate criticism of the video. But to call it racist is lazy, insensitive and plain untrue.