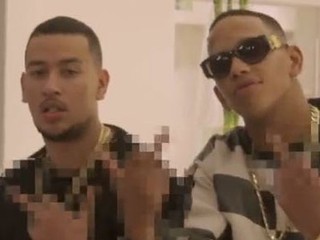 The BCCSA (Broadcasting Complaints Commission of South Africa) is not impressed with the SABC lately according to Channel 24, who has revealed that the SABC aired during the festive season a music video that was not censored for viewers younger than thirteen.  Tisk tisk, apparently the video that has got the channel in hot water is AKA's Kontrol video featuring Da Les.
To our surprise we couldn't recall anything PG about the contents of the video, except the alcohol drinking (chances are it wasn't even real alcohol either.) So we decided to watch the video again and see what we could've possibly missed that has the BCCSA up in arms about the contents of the video.  
Maybe there was a girl twerking in the background with her butt-cheeks out that we missed but nope it had nothing to do with that. So we watched the video again and still couldn't see anything wrong with the contents of the video except for the two second middle-finger scene by the two rappers but even with that scene their fingers were censored.
According to Channel 24 the BCCSA complained about the introduction of the video which shows  AKA and his lady friend peacefully sleeping in bed. The BCCSA penalised the channel for not showing the correct age restriction advisory message of PG 10 after a complaint came from a disgruntled parent who was watching the channel at 10:00a.m when the video appeared, citing that the video promoted under age drinking and sex. 
In their defence the SABC blamed the error due to a lack of staff members during the festive season which lead to the appropriate age advisory message being omitted. 
Do you think the BCCSA would've voiced their concerns if the complaint didn't come through from a concerned parent?