Warning; Graphic visuals in this article
The party zone on Saturday was one of the most interesting moments of the reality show since it aired.  Never in our wildest dreams did we think that such debauchery would ensue in the house, coupled with high emotions and nudity.
After Big Brother shut down the Saturday party it was clear that the Shap Shap drinks were working well into the housemates' system.  From the moment they stepped out of the Big Brother club all hell broke loose! Naïve Jase was super hyper with his two left feet as he bounced around the garden like a muscular Telly-Tubby. However, one person who had us dragging our jaws on the floor was the foxy "Kitty-Kat" who had mentioned earlier on in the evening that she wanted to stir up some controversy in the house, and boy did she just stir up a storm!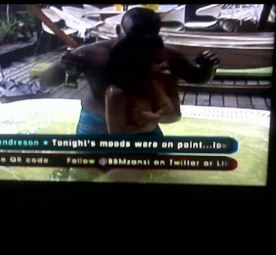 One minute Kat was dressed, the next she was half naked in the jacuzzi covering her nipples whilst flirting with the cameras.  The jacuzzi heated up even more when plump Sol jumped in to join Kat, wearing nothing but his briefs.  What followed next was enough to either make you cringe or laugh in disbelief as Sol fondled and grinded on Kat as he pleased.  Jase grew a pair (finally) as he charged to get his woman whilst undressing his Hercules body.  The 21 year old not only got his woman back but he suddenly was the one grinding, kissing and feeling on Kat whilst Sol sat there with egg on his face.  However, Sol wasn't done yet, he wanted more of Kat and he wanted it now! After the jacuzzi semi-porn stint Sol then followed Kat upstairs where a conversation and some more fondling occurred.  Sol not only kissed Kat on the back but freely fondled Kat's breasts, thighs and unsuccessfully tried to steal a kiss on the lips, Kat on the other hand did not protest against Sol's hanky panky acts.  Is it only us but it seems like Kat has a thing for guys who hold the head of house title for that particular week?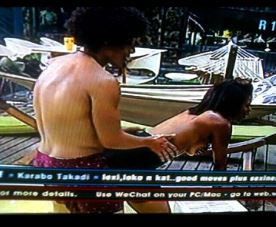 Rumours began to spread that Sol and Kat were kissing; the rumours landed on Kat's ears and the drama began as Kat spewed fire towards Kgosi and Jase who were said to have started the rumours. Before we knew it, the house was a war zone as a Kat and Sol versus Jase and Kgosi verbal fight began.  F-bombs detonated every other second as everyone tried to figure out how this rumour came about.
With the drama in the house and the majority of the housemates attacking Kgosi for standing up for Jase, it was inevitable that he would be the one to be evicted next.  Stay tuned for our interview with Kgosi coming up later on today.
Would say Vanessa was right about Kat?