Slik Talk
is at it again. This time the YouTuber took a swipe at the
award-winning rapper Big Zulu.
Read More:
Slik Talk Attacks Minnie's Failed Marriage
After he made a video calling Big Zulu and Lasizwe out for "clout chasing," the rapper responded promising to serve him with a few slaps.
However, Slik Talk is not moved. He made another video making it clear that he is not scared of the
Nkabi Nation Records boss.
"...so I woke up this morning to find that I am being threatened by Big Zulu talking about when he sees me he's gonna slap me...This is the same Big Zulu that I met at the
Cassper Nyovest
boxing match and this man was smelling like cow pee and now all of a sudden he is a tough guy?" Slik talk said starting off his video.
He added that he never liked Big Zulu as a rapper and he thinks his music is garbage. He continued, "The only reason that I used to listen to your music is that I liked the fact that you are humble, you came in from KZN and you never changed you were yourself. All these tough guy talks that you doing now my n*gga I don't know you, You look unfamiliar."
Meanwhile, Slik Talk got under fire yesterday after he made insensitive comments about
Riky Rick's wife Bianca
on his channel.
He asked where Bianca was when Riky Rick allegedly committed suicide."My thing is, where was Bianca in all of this? I'm sorry but I have to ask a question. Where was the person sleeping next to him every night when he was going through all these troubles? Because I knew it, a lot of people knew it…did Bianca know it?
"Bianca I'm sorry, but we have to have the difficult conversation. Were you there for this man when he needed you the most? Because we can all tell that Riky Rick was pouring from an empty cup. He needed the help and support. He had a lot of pressure and had a lot of stress," he said.
The Youtuber later released another video apologizing to Bianca. He said he deleted the video minutes after he posted it and he regrets everything that he said in the video.
"First and foremost, I just want to say that I apologise to Bianca Naidoo Riky Rick's wife for the video that I made yesterday about her. It was extremely insensitive, very distasteful, and out of order. I just want you to know that I apologise for that video.
"It's just that Riky Rick was such an impactful guy to the culture that I wanna know what happened. What led to that decision, why he did what he did that's all? I was just speculating. I didn't think the video would do what it did," he said.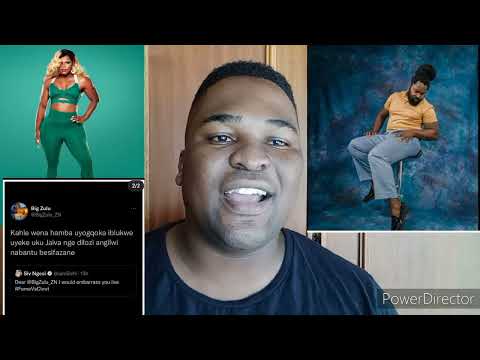 Read More:
Congratulations Are In Order For Makhadzi
Image Cred: YouTube