While the VMAs continue to dominate local entertainment news, there was another massive awards ceremony this weekend. ZAlebs was amongst the Paparazzi and film crews who flooded the yellow carpet at The 3rd Annual Comic's Choice Awards™ (CCA) at the Teatro at Montecasino on Saturday 24 August. 
Whilst on the yellow carpet, we spoke to David Kau who was accompanied by his beautiful wife.  We asked him about his latest movie, Blitz Patrollie and what these awards meant to him as a comedian:
"Blitz Patrollie did ok in the urban areas but we realized that we need to take the movie to more black people in the townships, not many of my people saw it so I feel it's important that we push for the movie to be seen by people in the townships.  As for awards, they don't change my life but they will change other comedians' lives that are on the come up in the industry,"
As South Africa's comedy industry came out to recognize and award some of its own, excitement for the evening's gala event was contagious as everyone waited in anticipation to see who'd walk away with one of the six coveted Waldo's.
Far from a standard award ceremony, the variety show kicked off with an eruption of applause as Parkour free-runners abseiled from the roof to the sound of live gunfire.  Audiences were treated to unbelievable production design and celebrity guest appearances from the likes of Jahmil Qubeka, Anele Ndoda and Joe Mafela who still does his "Sgudi Snaysi" signature laugh to perfection.  ZAlebs also enjoyed Chris Forrest performance as the voice over for the animated host who had us in stitches with his dry humor.
Winners performed seven minutes of stand-up as their "acceptance speech" and their pride (and tears of joy and laughter) were felt by all those lucky enough to have attended the comedy industry's crowning event.  
Comedians vote for their peers to win the Waldo's, with only one award, the Savanna Audience Choice Award, being open to public vote; and multi-award winning Sifiso Nene took home this year's coveted Waldo for the second year running.  We asked Sifiso where he planned on placing this award in he's house and he boastfully said that he'd place it in his bathroom next to his other many awards.
Trevor Noah, Barry Hilton and Kagiso Lediga scoop top CCAs
Pioneering comic Kagiso Lediga won the respect of his peers for his sharp-witted content creation and was awarded The Times Comic's Pen Award; a well-deserved accolade for one of SA's most venerable comedians.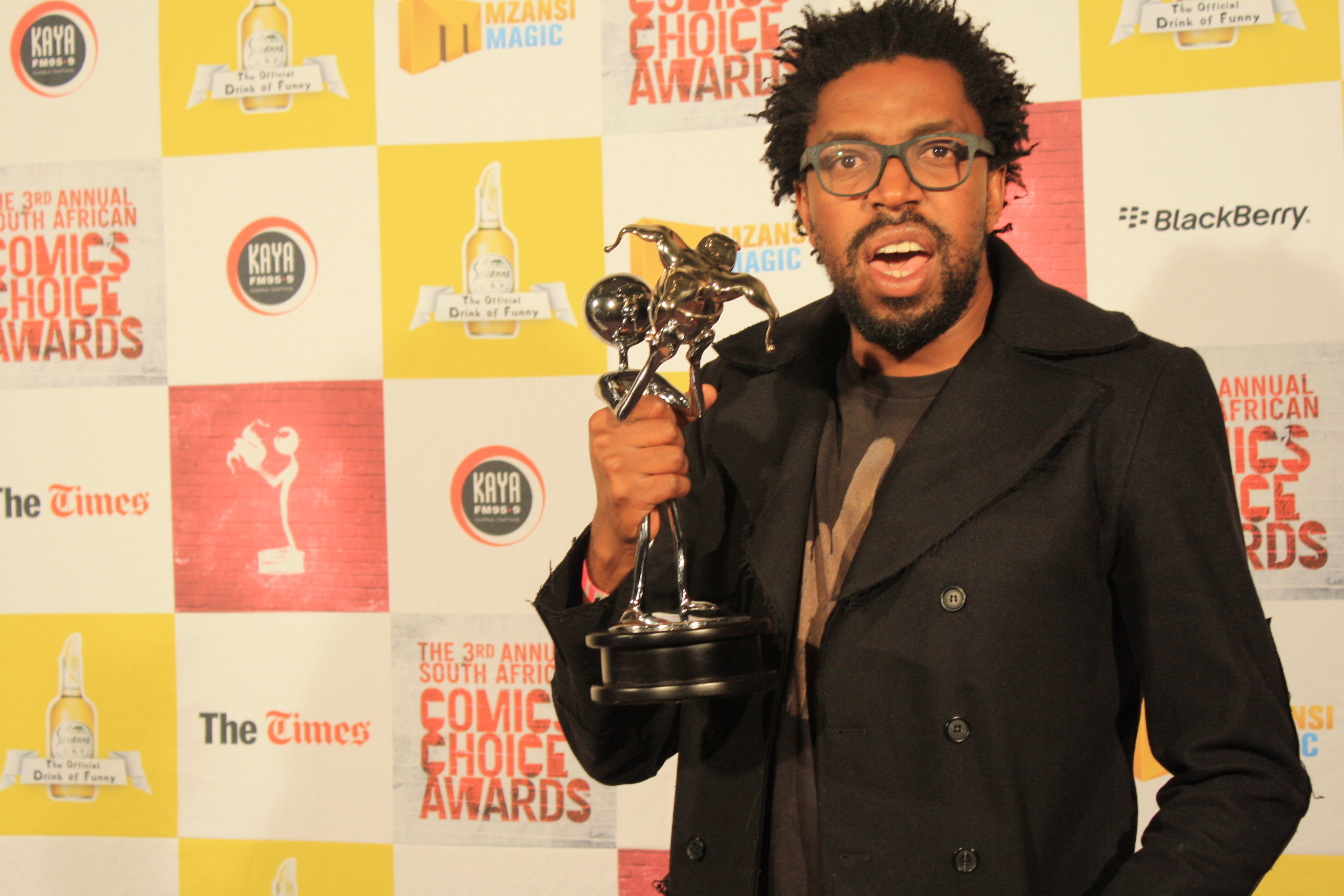 Mpho Popps Modikoane's youthful talent and charming comedic disposition were recognized by the industry as he was awarded the BlackBerry Breakthrough Act Award, Mpho told ZAlebs that: "This awards means that my family and I are about to jump and celebrate!" as he unexpectedly pounced on his family in a raw of jubilation.  
At Soweto's Savanna Newcomer's Showcase in June, crowds gave Schalk Bezuidenhout a standing ovation, so it was no surprise that this mustachioed comic with his trademark ironic jersey and ankle-length trousers would be voted for by industry to win the Waldo in the Savanna Newcomer Award category. 
Trevor Noah was awarded The Comic's Choice Comic of the Year Award once again but was unable to attend due to health reasons, while legendary 'Cousin' Barry Hilton was the well-deserving recipient of The Lifetime Achievement Award.  
"There is light at the end of the tunnel me winning this award clearly shows that people recognize my hard work, it's fantastic! I've been invited to go work in a comedy club in Las Vegas but it means nothing in comparison to winning this award" said Barry. 
The CCA team definitely pulled out all the stops to deliver the best event yet. A magnificent show with a seamless production that deserves to be applauded for their tireless efforts to showcase and celebrate South Africa's finest.  Of course all this wouldn't be possible without the support of the sponsors and media partners, so hats off to The Times, Savanna, BlackBerry too.
Click here to view the gallery