In an unexpected turn of events, actress and model
Enhle Mbali Mlotshwa
has refuted claims that she lost her court battle against estranged
soon-to-be ex-husband Black Coffee.
On November 29,
Sunday World
reported that the court could not find grounds to meet her demands of more than R130 000 per month for child maintenance, groceries and beauty cosmetics.
Read more:
Court Orders Black Coffee To Pay Child Maintenance
To break down the figures, the publication alleges that "Mbali wanted R80,000 in child maintenance for their two minor children, R30,000 for groceries and household items and R17,800 for her beauty cosmetics."
She also allegedly wanted him to cover her medical expenses. She apparently revealed that
Black Coffee
earns R100-million a year as a DJ, adding that he can definitely afford
her demands
.
After the story got published, Enhle immediately took to her social media to debunk these claims made by the publication, saying it is all a lie.
On Instagram the
Isibaya actress
laughed off these claims, calling them a lie. She said the DJ has not been taking care financially of her and their children, saying that the court only ordered him to pay up, "I wonder how much they get to lie. It's a public document, the verdict was he (should) look after me and the kid's as he wasn't."
In a bid to escalate things, Enhle threatened to take the paper to court, "The law is always fair.... (great #rule43 verdict and it will continue) to be.
"@SundayWorldZA, the people are not stupid. This matter will physically go to court you can't lie then.... the truth always comes to light!!! My silence is not out of stupidity," threatened the actress.
Enhle exposed Coffee for not paying child maintenance and spousal support, therefore if the figures reported by Sunday World are anything to go by, Black Coffee has to pay "R15,000 a month for spousal maintenance and R50,000 in child support."
This is not the first time Enhle has called out a "lie" spread by publications. In September,
Sunday World
reported that Enhle claimed she ended up being a stay-at home mom because the renowned DJ barred her from doing romantic scenes. In her court battle she apparently demanded Coffee to compensate for all the money she lost out on.
"I also was under pressure from the respondent to not take up acting events as he would not accept me doing any romantic or intimate scenes. This demand by the respondent immediately caused many TV production companies and with numerous projects that I had been lined up for, to cancel or drop me from their lists of actresses...I found myself becoming a stay-at-home mom without really being aware of it," reads the court papers.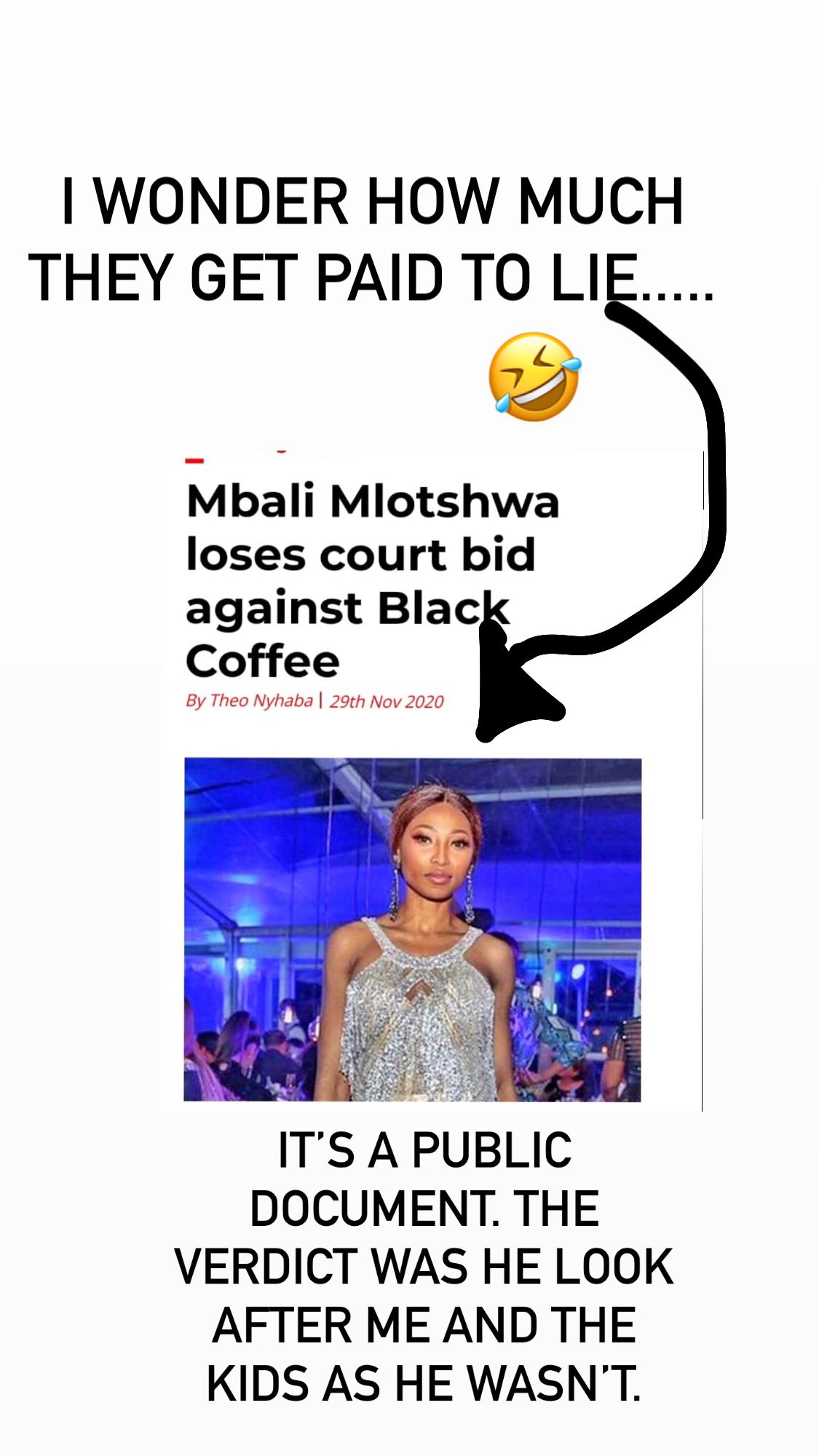 Picture credit: zalebs.com