By now most of us and the rest of the world have gotten over the Floyd Mayweather and Manny Pacquiao fight. However, it seems as though there are a few of us who are still bitter about the fact that the likes of Fikile Mbalula and Tbo Touch were actually in Las Vegas to witness history in the making!
Whilst Tbo Touch had us green with envy when he showed off his autographed Floyd Mayweather gloves, other South Africans were questioning who financed Minister Fikile Mbalula's illustrious trip to Las Vegas. Err doesn't the man receive a salary every month?
As the minister shared every moment of the fight with his followers a few curious cats, who were clearly not impressed with his very glamorous long weekend in Sin City kept probing the question of who paid for his trip to the States.
Clearly annoyed at the probing, Mbalula responded with this classic response which is a reference to Chris Brown's intro on his "Look at me now single"
Which goes a little something like:
"I don't know why you hating from outside of the club…when you can't even get in."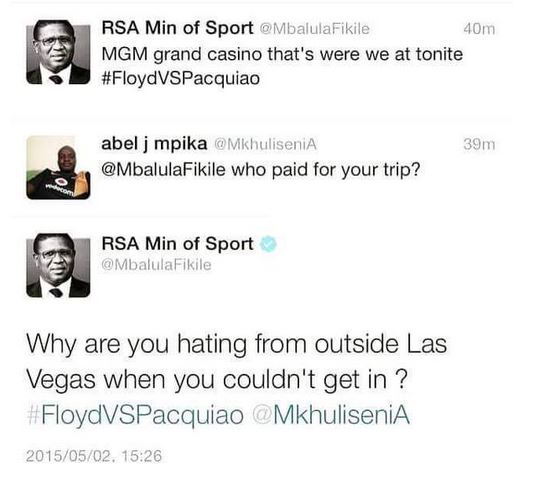 Fikile continued to make it clear that not every trip he takes comes from tax payer's pocket.
"Honourable tweeps, you are my employer, you elected me to work for you. I wait for month end like many. Not everything I do is with your tax." said the minister.
So in the words of Sevyn Streeter please don't kill Fikile's fun.